Tell a friend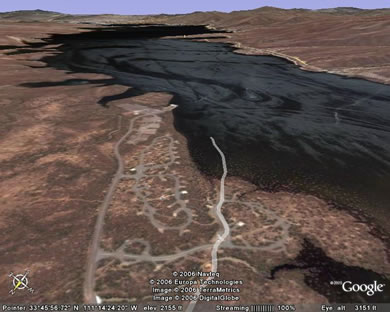 Indian Point campground is located 13 miles north of Roosevelt Dam. There are 54 campsites with fire rings, tables and grills. Some campsite are double units or shoreline units. Single units are $10 per night for 10 people, 2 vehicles and 1 watercraft. Double units are $15 for 20 people, 4 vehicles and 2 watercraft. A paved boat launch is available for use when the water is above 2110'.
The drive to the campground is well worth the trip. If you take the Apache Trail from Apache Junction, bring your camera the views of the Superstition Mountains are spectacular. Warning, This road is not recommended for RV's or large trailers.
Directions:
Courtesy of the National Forest Service!
This site is approximately 13 miles northwest of Theodore Roosevelt Dam. DO NOT ATTEMPT TO CROSS TONTO CREEK WHEN IT IS FLOWING!!
From Mesa: Take the State Hwy.87/Beeline Highway north for about 60 miles to the junction of State Hwy. 87 and State Hwy.188. Turn right and follow State Hwy.188 for 23 miles to its junction with Forest Road (FR) 60/A Cross. Turn left and continue across Tonto Creek for 2 miles to FR 661/Indian Point. Continue on FR 661 for one mile to the site. The entire route (except for the first ¾ mile of FR 60 where it crosses Tonto Creek) is paved.
From the Globe area: Take State Hwy.188 north for 30 miles to the junction of State Hwy.188 and State Hwy. 88. Continue on State Hwy.188 over the bridge for another 11 miles to Forest Road (FR) 60. Turn right onto FR 60 and continue to site as described above.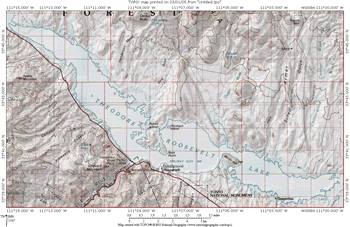 Click to enlarge map

comments powered by