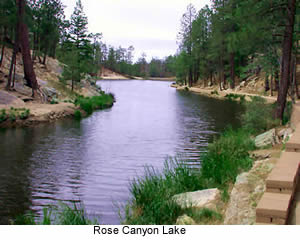 Campsites are spacious here, spread out among stands of big ponderosa pine and clumps of Gambel oak in a cool forest setting. During rainy seasons, Rose Creek meanders through the area to Rose Canyon Lake at the lower end of the campground. This six-acre lake is sheltered by trees, and offers a pleasant setting for a woodland walk, a lakeside time-out, or an afternoon of fishing for stocked trout. A one-mile trail leading around the lake provides access for anglers and walkers. Also, this trail is handicapped-accessible from a lower parking area to a floating dock near the dam.
This area is popular for day use as well as overnight camping. Two day-use group sites are available, one of which may be reserved by calling Recreation Gov, toll-free 1-877-444-6777 or visit them by linking to, http://www.recreation.gov
The area also provides access for woodland walks, wildlife watching, and fishing when the campground itself is closed for the season. Please remember, however, that in the off-season the gates will be closed and locked, so no garbage service is provided and no water is available. If you visit then, you'll want to be sure to pack out everything you pack in.

Location: Northeast of Tucson, between mile markers 17 and 18 on the Catalina Highway.
Elevation: 7,000'
Season: Spring, summer, fall
Attractions:
6-acre mountain lake
Fishing (stocked with trout)
Spacious sites
Cool forest setting

Facilities:
74 single-unit sites
2 group areas for day use (1 may be reserved)
Tables and fire grills
Ramadas at group areas
Drinking water and toilets
Notes:
No hook-ups.
Tents, trailers to 22' and small motor homes permitted.
No boats and no swimming in the lake.
Pets must be on a leash.
Pack and saddle stock are not permitted in campground or picnic area.
Rose Canyon Lake Trail #37 (1 mile long) has a difficulty rating of moderate. Use levels are heavy.
Arizona Game and Fish regulations apply. A valid fishing license and trout stamp are required.