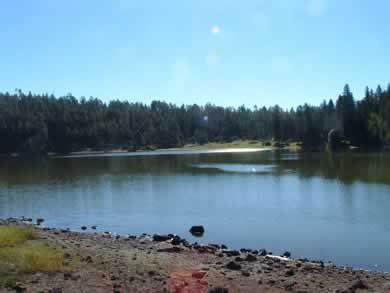 Pacheta Lake Campground is located 8 miles south of Reservation Lake on Y20 then east on Y55. Rough roads lead into this peaceful place where you won't see much traffic, either on the road or fishing the lake. Be careful when afternoon summer thunderstorms come rolling through, the road can get mucky and be tough to navigate. Permits from the White Mountain Indian Tribe can be obtained at Hon-Dah, Reservation Lake or McNary for both camping and fishing. Permits are required for both activities.
Pacheta Lake is a gem of a lake deep in the White Mountains. Fishing in the area is outstanding, The fishing pressure is low even during the holidays in the summer so a 16 - 18 inch rainbow or brown is not uncommon.
For those with an adventure on mind, take the back road to FR 25 via Y70. The back country is pristine and the road is not. Although a reletively smooth ride, not too many people take this dirt road and chances of viewing wildlife are better here than anywhere else. Just don't forget your maps and your GPS, and don't take the road after a rainstorm.

comments powered by