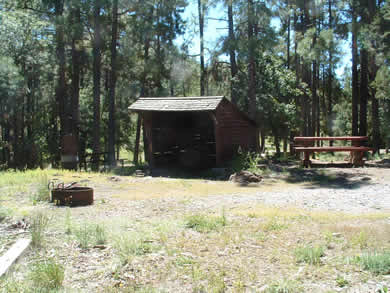 Primarily a campground for those who have horses, Strayhorse is centrally located between two pack trails that lead in opposite directions, east and west. The western trail, Highline Trail #47, will take you along the base of the Mogollon Rim, while Raspberry Trail #35 will take you along the Raspberry Creek all the way to the Blue River in the Blue Range Primitive Area. There is a corral available for those with horses. Just make sure to bring water.
The campground is shaded and offers a cool climate during the summer months.
You have to check out the Blue Vista Scenic area north of the campsite for some of the most spectacular views anywhere in the world. The scenic drive is worth the trip alone.
Directions
From Alpine travel south on U.S. Highway 191 for 26 miles to the campground located just a few miles south of the Mogollon Rim.