Slightly more secluded than other Mormon Lake area campgrounds, Kinnickinick Lake Day Use Area offers wonderful fishing and wildlife viewing. Elk and antelope can often be seen in the area, as well as bald eagles which frequent the area during fall and winter. The San Francisco Peaks sit majestically on the horizon so don't forget to pack your camera.
Kinnickinnick is a fantastic place to do some off roading, the area is wide open and there are many dirt roads to wander off on.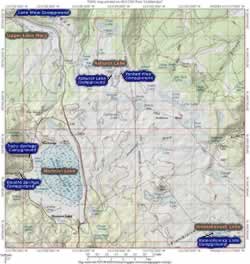 For a map of the regoin surrounding Mormon Lake and Upper Lake Mary click here.
Directions
Take Lake Mary Road out of Flagstaff east 30 miles to FR 125. Turn east on FR 125 for approx. 4 miles to FR 82. take FR 82 southeast 5.5 miles to the campgrounds. Lake Mary Road (FR 3) is paved but the rest of the way is on a nice dirt road that most passenger cars can handle with no problem.

comments powered by
View Larger Map