Tell a friend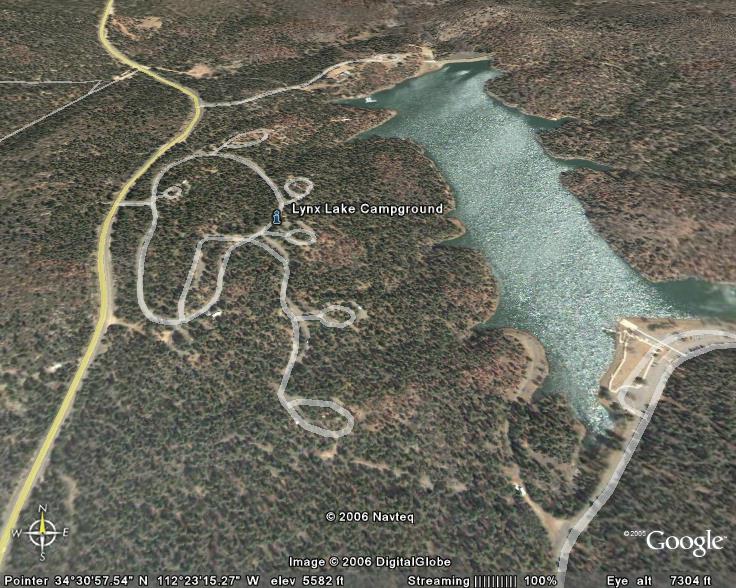 Lynx Lake Campground is a jewel in the Bradshaw Mountians. Activities include fishing, boating gold panning and picknicking. The campground sits on the western side of the lake and is paved. There is a well stocked store on the north edge on the lake and if you can't find what you need there, Prescott is only a few miles away.
Fishing includes rainbow trout, crappie, largemouth bass, channel catfish and sunfish. there is a boat ramp located on the south end of the lake. Boating is limited to electric motor only.
You can also try your hand out at gold panning in the streams around the lake. Check with the store for more information on gold panning.
Lynx Lake has both vault and flush toilets for your convienience but no showers, RV hookups or a dump station.
Campsites are on a first come first served basis, ask the camp host for help with a campsite or pick one out and the camp host will find you.
Campsite Panoramas - See each campsite at Manzanita Campground.
Click a campsite number below or one of the camping icons on the map.
1, 2, 3,, 5, 6, 7, 8, 9, 10, 11, 12, 13, 14, 15, 16, 17, 18, 19, 20, 21, 22, 23, 24, 25, 26, 27, 28, 29, 30, 31, 32, 33, 34, 35
Directions
From Prescott, go east on hwy 69 for approx 5 miles to FR 197 (Walker Road). Take Walker road 3 miles to the camprgound entrance.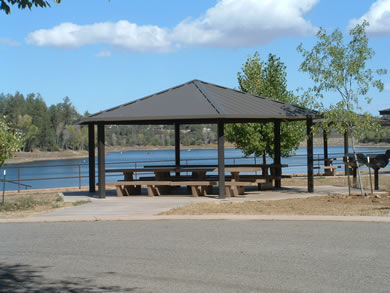 Above: A small covered ramada at south Lynx Lake.

comments powered by