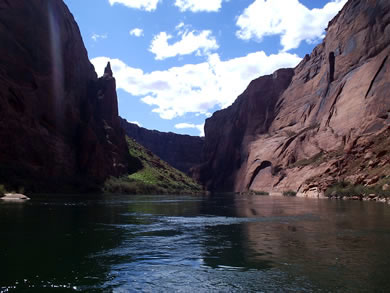 There is more than enough information on Lee's Ferry to write a book, and there are numerous books out there. For the scope of this web page, I have to keep it pretty simple, sorry! O.K. lets start with a short description of the area.
Lee's Ferry is the only place in the Grand Canyon National Park that you can drive right up to the Colorado River. The stretch of the Colorado River between Lee's Ferry and Glen Canyon Dam is part of the Glen Canyon National Recreation Area and is maintained by the National Park Service. The Grand Canyon begins at Lee's Ferry.
For an absolutely stunning 360 degree panoramo of Horseshoe bend Click Here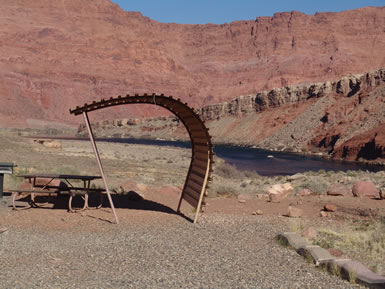 The Campgrounds
Located about 1.5 miles back up the road from the boat ramp is Lee's Ferry Campground. 54 well kept but slightly unlevel campsites make up the campground. There are flush toilets and a waste station for RV's. There are even wind breaks in each campsite as the wind can sometimes pick up pretty strong in the afternoons (make sure you bring your stakes if you are tent camping).
Upriver campgrounds
If you have a boat, there are several dispersed campgrounds available upriver. Armed with a map of the river (available in Marble Canyon) and good directions of how to avoid losing a prop in the shallow water of the Colorado River (ask anyone in one of the local fly fishing shops), there are campgrounds at 6 mile, 7 1/2 mile, 8 mile, 9 mile, Ferry Swale and Ropes Trail (powerline camp). All of the campgrounds are a few steps from where you anchor your boat and are a good 10 feet above the waterline. There are vault toilets available but you need to bring your own water and trash bags. This is a PACK IT IN - PACK IT OUT area. There is a big bonus for camping upriver in that if you get up early enough, you can beat the guides to their favorite fishing spots.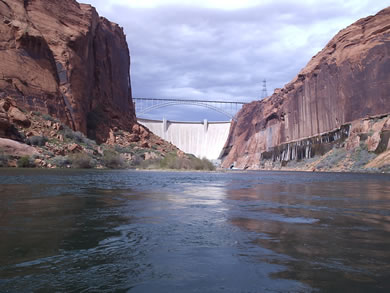 Fishing
If you like to fish for trout, This is the place to be in Arizona for large trout. Technically more difficult to fish than most places it is not too unlikely that you might land a 20 inch plus rainbow trout. Some estimates suggest that there are up to 40,000 trout per mile in the canyon. See the map below for the most popular fishing areas at Lee's Ferry. (Click Map To Enlarge)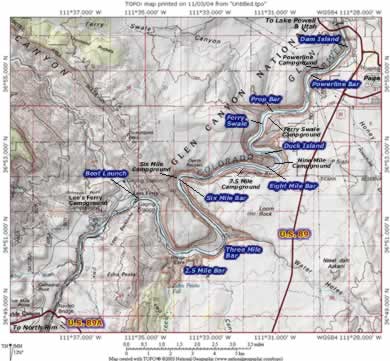 Map Courtesy of National Geographic Maps TOPO! Arizona
© National Geographic Maps
Directions
From Flagstaff, take I-40 east to Hwy 89 (Grand Canyon-Page Exit). Travel 110 miles north on HWY 89 to the turnoff to the Grand Canyon North Rim, Hwy 89A. Turn left on Hwy 89A and travel for 15 miles to the Glen Canyon/Lee's Ferry Recreation Area entrance just past the bridge over the Colorado River. Turn right at the entrance and travel 5 miles to the campground.
Resources

comments powered by