Tell a friend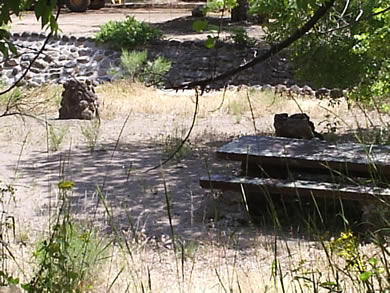 Campground Closed to vehicle traffic until further notice! You can camp in the campground but cannot drive into the campground.
The group site is open and available for groups of 25 or more. Make reservations by calling 480-595-3300.
Seven Springs Campground was built by the CCC in 1934. It is located 20 miles north of Cave Creek/Carefree on Forest Route 24. The campground was being renovated when I was there in 2005. There are 23 campsites with tables, grills and water available during daylight hours via a solar powered pump. The road can be a little bumpy, but well worth the trip during the spring and fall. Water flowing through seven springs is minimal and only several inches in depth. Shade is plentiful with many sycamore trees lining the valley floor and the campground.
There is a private ranch just before you get to the campground with a warning sign reminding you not to trespass.
During the rainy season, be cautious of flash floods.
Directions:
From Carefree, take Cave Creek Road/Forest
Road (FR) 24 for 20 miles north to Seven Springs. The last 9 miles of FR 24 is an all weather gravel road. The gravel portion of the road is narrow with blind curves.

comments powered by