Elevation

3300'

Season

All Year

Days Limit

15

Fee

Yes

Units

44

Trailer Limit

32'

GPS Location

Access

Paved

Potable Water

Yes

Waste Disposal

Yes

Restrooms

Yes

Showers

Yes

Reservations

928 634-5283

Store Nearby

Yes

Campsite Grills

Yes

Campsite Tables

Yes

Fire Rings

Yes

Utility Hookups

Yes

Information

928 634-5283

Firewood

Camp Host

Fishing Supplies

Cottonwood

Laundry

Cottonwood

Gas & Propane

Cottonwood

ATV Use

No

Visitor Center

Cottonwood

Rainbow Trout

Yes (winter)

Cutthroat Trout

-

Brook Trout

-

Brown Trout

-

Apache Trout

-

Crappie

-

Yellow Bass

-

Flathead Catfish

Yes

Tilapia

-

Yellow Perch

-

Carp

-

Redear Sunfish

-

Bluegill

-

Green Sunfish

-

Walleye

-

Northern Pike

-

Channel Catfish

Yes

Sunfish

-

Smallmouth Bass

Yes

Largemouth Bass

Yes

Striped Bass

-

White Bass

-

Arctic Grayling

-

Bullhead

-

Fly and Lure Only

No

Acreage

-

Body of Water Depth

-

Catch and Release Areas

-

Boats Allowed

-

Motor Limit

-

Boat Rentals

-
Tell a friend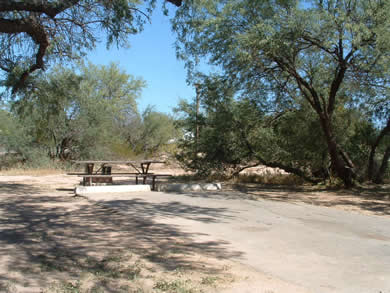 Positioned right on the Verde River in Cottonwood, Dead Horse Ranch State Park has all of the amenities that one would need to have a great camping adventure. With hookups for RV's, showers and a dump station, Dead Horse is an ideal campground to call home while discovering the Verde Valley area. Historic Jerome sits on the mountain just a few miles from south of Cottonwood. Tuzigoot National Monument is just around the corner and Montezuma Castle is just 15 miles away, and the scenic red rocks of Sedona lie just north of Dead Horse. Fishing is excellent for channel and flathead catfish, rainbow trout (fall, winter and spring) smallmouth and largemouth bass. The park even has a couple of stocked ponds that hold some nice trout in the cooler months. Overall, you really can't miss in this under used campground.
Directions
From Phoenix travel north on I-17 to the Cottonwood exit
(hwy 260) head west 10 miles to Cottonwood. Once in Cottonwood take 10th Street just a mile north to the campground.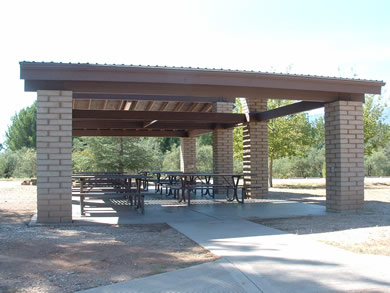 comments powered by
View Larger Map

Overall Rating
---
Available Amenities
---
Cleanliness
---
Fishing
---
Campsite Spacing
1- Tight 5- Spreadout
---
Camp Host
---
Good for Kids
---
Other Nearby Campgrounds