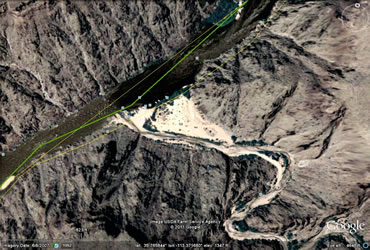 Diamond Creek Campground is located on the Colorado River on the Hualapai Indian Reservation. This is the only place that you can actually drive to the bottom of the Grand Canyon. There is a elevation drop of some 3400 feet along the 20 mile dirt road from Peach Springs. The road is reletively good until you reach the creek itself. a four wheel drive vehicle is a good idea. Don't try crossing this creek during monsoon season. You may find yourself stuck for a day or more.
Fees as of 2011 were $26.75 per night per person. Fees can be paid at the Hualapai Lodge in Peach Springs.
Even though this seems to be a long way away from everything, don't expect to be alone at the campground. Many of the rafting trips through the Grand Canyon use this stop as their pullout. Some even use it as a starting point to run the rapids of the lower Colorado River.
Three small metal covers are all the shade available at this campground. If you are planning a trip during the Summer months it would be wise to bring your own easy-up or tarps with poles, ropes and stakes to make your own shade.
Fishing the Colorado River can bring some fantastic catches. Rainbow trout can easily be over 20 inches in the cold water of the river at the confluence of the Colorado River and Diamond Creek. You might even land a largemouth bass or a channel catfish that have made their way up from Lake Mead.
Directions
From Peach Springs take Indian Route 6 north to the campground. Watch for wild burros along the road.