Tell a friend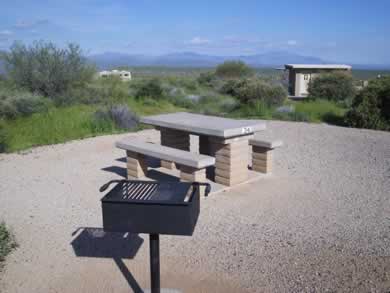 Nestled in the lower Verde River basin, the 21,099-acre park is a desert jewel in the northeast Valley. Elevations in the park rise to 3,000 feet along the western boundary at the base of the McDowell Mountains. Visitors enjoy a full program schedule, over 50 miles of multiuse trails, and spectacular views of the surrounding mountain ranges. A stroll through the park will allow visitors to likely see deer, javelina, birds, and coyotes.
Group campsites may be reserved ahead of time, individual campsites are on a first come, first served basis
Large groups can reserve one of three campgrounds within McDowell Mountain Regional Park. The Group Campgrounds can be reserved for a fee and requires a commitment of six units to utilize the facility for dry camping.
Group Campground - 3-acre parking area can accommodate 30 RV units for day use or overnight camping. Restroom with flush toilets and hot water showers, a covered ramada with 6 picnic tables, a large barbecue grill, and a large fire ring for campfires.
Trailhead Group Area - For groups larger than 30 RV units. 2 large covered ramadas, each with 4 picnic tables and large barbecue grill. A large fire ring is centrally located between the 2 ramadas for group gatherings. This area is ideal for overnight camping groups with horses or mules.
Youth Group Area - For Boy Scouts, Girl Scouts, and other youth groups. Large parking area with port-a-jons, water, picnic tables, flagpole, and large fire ring. This area is ideal for overnight scout camping trips.
Trails
McDowell Mountain Regional Park offers over 40 miles of hiking, mountain biking, and horseback riding trails. Park Trails range in length from 0.5 miles to 15.3 miles and range in difficulty from easy to strenuous. Those looking for an easy hike should try the North Trail at 3.1 miles. Those looking for a good workout for themselves or their horses should try the Pemberton at 15.3 miles.
NOTE: The Dixie Mine Trail is closed until further notice due to construction in Fountain Hills; updates will be posted on this website as they become available.
All trails are multi-use unless otherwise designated. All trail users are encouraged to practice proper trail etiquette.
Always remember to carry plenty of water and let someone know where you are going.
For a map of the Regional Park (Approx 1 meg PDF)
Click Here

comments powered by