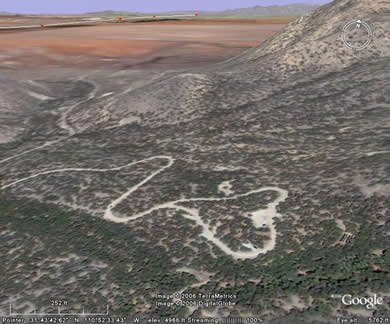 This oak-shaded area provides the only campsites available in the Madera Canyon Recreation Area. During the off-season you can usually get a site here without much trouble. However, Madera Canyon is a world-class birding area -- once the incredible variety of birds arrive in early spring and the wildflowers bloom, this small campground becomes crowded. If that's when you would plan to visit, arrive early on a weekday for the best chance of getting a site.
Bog Springs offers some exceptional scenery, either right from your campsite or a short walk away. Many visitors unfamiliar with Arizona will be surprised by the high grasslands that climb the slopes of the Santa Rita Mountains, the thick oak woodlands, and the conifer forest that covers the mountain tops.
Three trails leave from the campground to nearby springs and seeps and the small desert oases they feed. At Madera Picnic Area, just a short walk away, there is access to a nature trail, part of which is paved and barrier-free.
Within driving distance are over 65 miles of Forest trails that lead into the Mt. Wrightson Wilderness, a mountain bike ride around spectacular Elephant Head Rock, and three scenic drives, one of which visits the Smithsonian's Fred Lawrence Whipple Observatory.
Location: 49 miles south of Tucson in Madera Canyon of the Santa Rita Mountains.

Access: Drive south from Tucson on Interstate 19 to the Continental Road/Madera Canyon Exit. Turn east and follow the Madera Canyon signs 12.5 miles to the campground. The entire route is paved.
Elevation: 5,200'
Season: Year-round.
Attractions:
World famous birdwatching
Marvelous, surprising scenery
Forest trails
Streamside nature trail
Shaded sites
Facilities:
13 campsites with tables and fire grills
Drinking water available
Toilets
Paved access road
Notes:
No RV hook-ups. Maximum advisable vehicle length is 22 ft.
Pets must be leashed.
Firewood is not available. Bring your own firewood or charcoal or a camp stove for cooking.
Bring a few extra garbage bags, too. You'll want to leave this outstanding area in as good or even better condition than it was when you arrived. Pack it in, pack it out.
Pack and saddle stock are not permitted in campground.
Nearest medical facilities and additional supplies are at Green Valley.

comments powered by