Abineau/Bear Jaw Trails, #127 / #26



Overall Trail Rating
1 = Poor 5 = Outstanding

---
Scenic Views
---
Route Finding
1 = Poor 5 = Excellent

---
Technical Difficulty
1 = Easy 5 = Very Difficult

---
Trail Access
1 = Easy 5 = Hard to get to
---
From the Abineau and Bear Jaw trails, on the north slope of the San Francisco Peaks, you can see the Grand Canyon seventy miles away. These two trails make a scenic loop through forested canyons. Both end at an old road along the base of a long talus slope topped by Humphreys Peak, Arizona's highest point. The climb along either trail is steep and steady through stands of mixed conifer and aspen. The road completes the loop by connecting the top of one trail to the other. From this high perspective the Grand Canyon cuts a wide gap in a the plateau stretching from the mountain to the horizon.
This route passes through an area colorful at all seasons of the year. In late spring, alpine wildflowers such as lupine, rocky mountain iris, penstemon and paintbrush splash the trailside meadows. Sunflowers add yellow in summer, and groves of aspen paint the slopes with crimson and gold during the fall.
You may spot a black bear here—perhaps the best chance you'll have around the Peaks. These big shy animals occasionally show themselves along these trails. Mule deer and elk are also plentiful. Common birds include juncos, Steller's jays and Clark's nutcrackers. In spring and early summer the melodious hermit thrush will serenade you.
Early in 2005, a huge avalanche did extensive damage to the trail in Abineau Canyon. Although the trail reopened by that summer, evidence of the avalanche still remains in toppled trees and gouged rock.
General Information
Usage: Medium
Best Season: May to November
Closest Town: Flagstaff, AZ
Managed By: Flagstaff Ranger District - 928-526-0866
Difficulty: More to most difficult
Directions:
Location: about 21 miles north of Flagstaff on paved and graveled roads.
USGS Maps: White Horse Hills, Humphreys Peak Quad
Access: Drive northeast of Flagstaff on US 89 for 12 miles to FR 420 directly across from the Sunset Crater turnoff. Turn left (west) for about 1/2 mile, turn right (north) on Forest Road 552. Turn right at Forest Road 418 and go approximately 7 miles to Forest Road 9123J. Turn left (south) on Forest Road 9123Ja for 1.2 miles to the trailhead.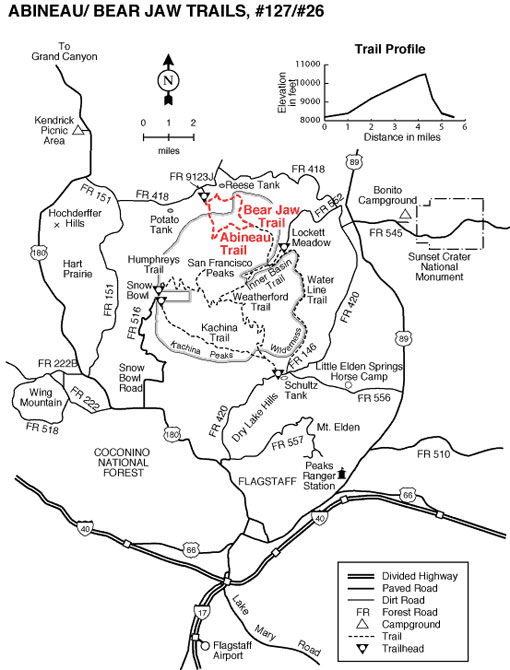 Rating: Strenuous
Hiking Time: 4.5 hours (round trip)

Notes:
No mechanized or motorized vehicles, including bicycles, in wilderness.
No access to Humphrey's summit from this trail.
Leave No Trace: Preserve wild lands for others by practicing LNT principles:
Pack it in; pack it out.
Dispose of waste properly.
Minimize campfire impact.
Respect wildlife and their water resources.
Leave only footprints; take only pictures.
Above all, plan ahead.

Trail Etiquette:
You're sharing the trail with others; be safe and courteous.
Observe regulations; stay on designated trails and avoid muddy areas and vegetation.
All users yield to equestrians; mountain bikers yield to all others.
Keep pets leashed at all times.
Slide Presentation of the Abineau / Bear Jaw Trails .pdf

comments powered by