Arizona Trail Equestrian Bypass 87C



Overall Trail Rating
1 = Poor 5 = Outstanding

---
Scenic Views
---
Route Finding
1 = Poor 5 = Excellent

---
Technical Difficulty
1 = Easy 5 = Very Difficult

---
Trail Access
1 = Easy 5 = Hard to get to
---
This segment of the state-spanning Arizona Trail was designed to give the equestrian user an alternate route around Flagstaff to avoid the busy city traffic and also to provide a safe way to cross Interstate 40.
The trail follows the rim of Walnut canyon so have your camera ready, as the views are spectacular. There will be a variety of photo opportunities including scenic canyon shots to fabulous views of the San Francisco Peaks. There is also an abundance of wildlife. Keep your eyes open for elk, deer, antelope, squirrels, fox, coyote and many varieties of birds.
General Notes:
Usage: Medium
Best Season: April to November
Closest Town: Flagstaff
Operated by: Flagstaff Ranger District - 923-526-0866
Rating: Moderate
Hiking time: 4.5 hours
Horseback: 2.25 hours
Latitude: 53.1765
Longitude: -111.5367
Elevation: 6700'
Notes: No motorized vehicles. Near Fisher Point you'll be sharing the trail with horseback riders from a local stable.
Leave No Trace: Preserve wild lands for others by practicing LNT principles:
Pack it in; pack it out. • Dispose of waste properly.
Minimize campfire impact. • Respect wildlife and their water resources.
Leave only footprints; take only pictures. • Above all, plan ahead.

Trail Etiquette:
You're sharing the trail with others; be safe and courteous.
Observe regulations; stay on designated trails and avoid muddy areas and vegetation.
All users yield to equestrians; mountain bikers yield to all others.
Keep pets leashed at all times.

Directions:
Location: 3.8 miles southeast of Flagstaff, southeast of Continental Country Club.
GPS: N35° 10' 53.6154", W-111° 31' 57
Access: From Flagstaff, take Country Club Drive to Oakmont Drive and turn left. Oakmont Drive will turn into Forest Road 303, follow FR 303 for 3.8 miles to the trailhead parking which is located on the right.
From the trailhead, you can go north or south. The northern route continues for 3.5 miles to Interstate 40. The southern route follows the rim of Walnut Canyon to Fisher Point and then across Walnut Canyon into the Mormon Lake District of the Coconino National Forest. This portion of the Arizona Trail goes to Marshall Lake.
Note: The Equestrian Bypass of the Arizona Trail is now completed, signed, and open to the public all the way from Fisher Point to Sandy Seep Trail.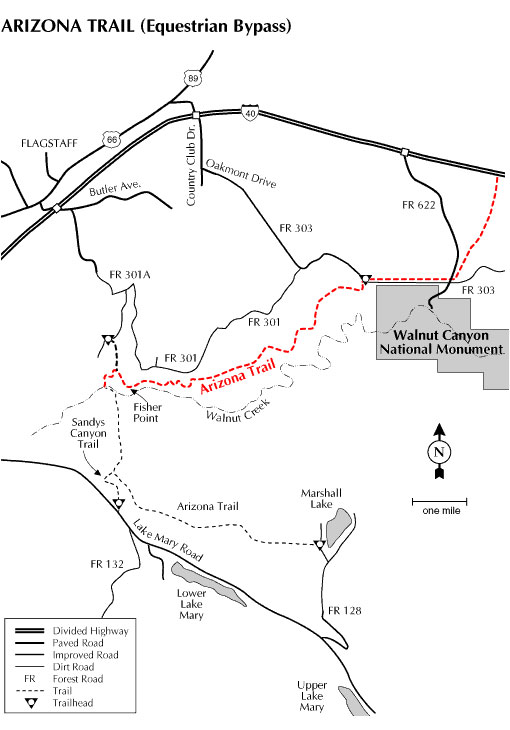 comments powered by