Brookbank Trail #2



Overall Trail Rating
1 = Poor 5 = Outstanding

---
Scenic Views
---
Route Finding
1 = Poor 5 = Excellent

---
Technical Difficulty
1 = Easy 5 = Very Difficult

---
Trail Access
1 = Easy 5 = Hard to get to
---
This trail is conveniently close to Flagstaff and attracts a large number of weekend and afternoon recreators. It is regularly used by mountain bikers, hikers, and horseback riders who come to enjoy the easily accessible escape to quiet and solitude.(Keep an eye out for speeding bikes.) From FR 557 the trail leads up a moderately steep slope along a forested wash. Along the way it offers good views of Flagstaff and the extensive ponderosa pine forest that surrounds it. The rim of Oak Creek Canyon provides a dramatic backdrop. The route passes through alternating areas of forest and meadow as the main feature of the view changes from Flagstaff to the San Francisco Peaks. At this point most likely you'll find yourself reaching for your camera.
There are a number of good places along this trail to observe a variety of wildlife species ranging from elk and mule deer to blue grouse and goshawks. A good way to get an idea of which species of wild animals live in the area is to watch the trail for their tracks, although you may have a hard time sorting out the coyote tracks from those of the family pets which regularly accompany their humans on this trail. If you see the track of one of the black bears which make this area their home, however, you'll probably have no such problem.
The Brookbank Trail ends at a low saddle where it meets the Sunset Trail. This trail leads northwest to Schultz Pass and FR 420 or southeast to the summit of Mt. Elden.
Rating: Moderate
Hiking Time: 2 hours
Note: No motor vehicles
Usage: Medium
Best Season: April to November
Directions:
Location: 3 miles north of Flagstaff on graveled Forest Roads.
USGS Maps: Humphreys Peak, Sunset Crater West
Area/Length: 2.5 Miles
Latitude: 35.254214
Longitude: -111.62492
Elevation: 7568 at trailhead
Access: Drive north from Flagstaff on US 180 to FR 420 (Schultz Pass Road). Drive east for 1 mile and, where FR 420 takes a hard left turn continue straight on FR 557 about 3 miles to the Brookbank trailhead.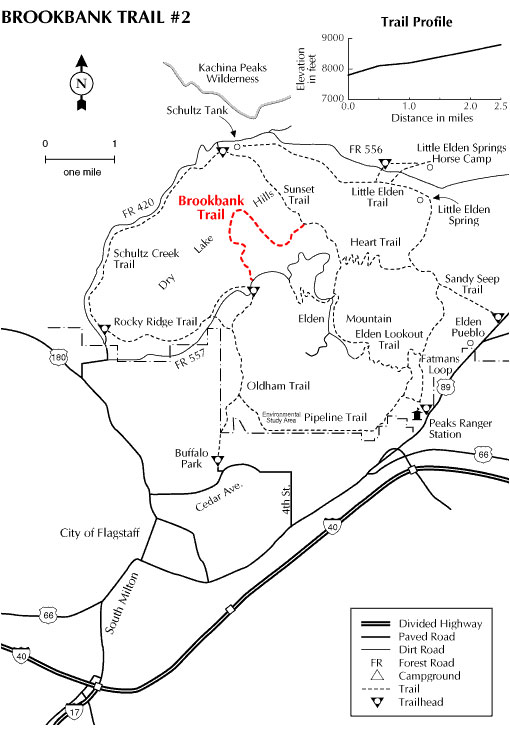 comments powered by