Fatmans Loop Trail #25



Overall Trail Rating
1 = Poor 5 = Outstanding

---
Scenic Views
---
Route Finding
1 = Poor 5 = Excellent

---
Technical Difficulty
1 = Easy 5 = Very Difficult

---
Trail Access
1 = Easy 5 = Hard to get to
---
For the most part, the Fatmans Loop is an easy walk, although it does have a few short steep sections. Scenic overlooks of Flagstaff, the city's eastern suburbs and the surrounding countryside make this a good place for a stroll when you have time to stop and enjoy the view. Along the route there are a number of interesting rock formations that bear witness to Mt. Elden's volcanic origins. One of these is a bit of a tight squeeze, hence the trail's name.
The area through which this trail leads supports a diverse community of plant species including upland trees such as white fir and ponderosa pine. Shrubs and smaller trees more usually associated with lower altitudes are also present. Among these are cliff rose, alligator juniper and broadleaf yucca. Wildlife you may encounter on this trail includes Abert's squirrels, pygmy nuthatches, mule deer and grey foxes along with more commonly encountered animals such as Steller's jays and ravens.
This trail provides access to the Elden Lookout Trail which continues two miles and 2,000 feet to the summit of Mt. Elden.
At a Glance
Usage: Heavy
Best Season: April thru November
Closest Towns: Flagstaff, AZ
General Information
General Notes:
Rating: Easy
Hiking time: 1.5 hours
Notes: No motorized vehicles
Longitude: 35.230296
Latitude: -111.579235
Area/Length: 2.0 miles
Elevation: 6879'
Directions:
USGS Map: Flagstaff East
Location: Near the Flagstaff Mall on Highway 89 in east Flagstaff.
Access: Follow Route 66 (which becomes Highway 89) past the entrance to the Flagstaff Mall and the Flagstaff Ranger District Office to a trailhead parking lot just off the north side of the street.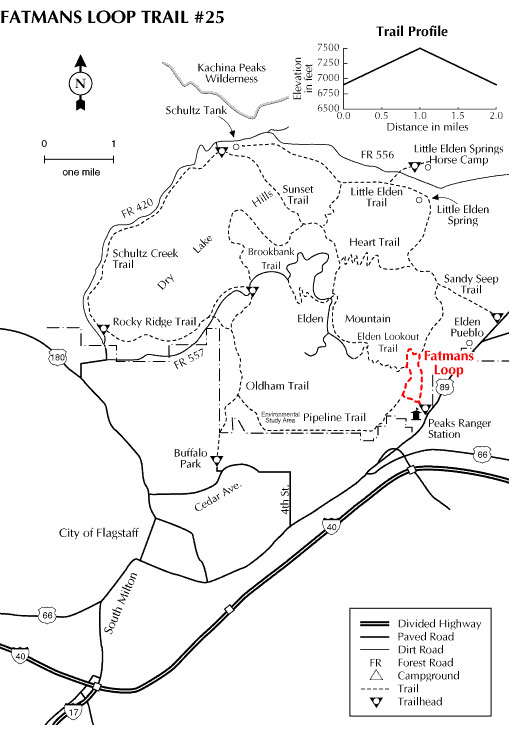 comments powered by