Humphrey's Trail #151



Overall Trail Rating
1 = Poor 5 = Outstanding

---
Scenic Views
---
Route Finding
1 = Poor 5 = Excellent

---
Technical Difficulty
1 = Easy 5 = Very Difficult

---
Trail Access
1 = Easy 5 = Hard to get to
---
This steep mountain trail leads to the highest point in Arizona. If you consider it merely as a means to that end, however, you'll miss much of the reason to come here. Along its 4.5 mile course, a thriving alpine forest streaked with huge rock slides and avalanche tracks hugs the mountain's slopes. Scenic Hart Prairie stretches out the base of the incline and the Grand Canyon is easily visible on the horizon.
As the elevation increases, trailside vegetation shows more and more evidence of the extreme harshness of this environment. Near tree line what's left of the forest consists entirely of bristlecone pines bent and twisted by wind and frost. This hardy tree manages to live one of the longest lives on earth in one of the planet's most inhospitable environments. Above tree line the only plants that can survive are small tundra shrubs and wildflowers that huddle for shelter among the rocks. Some are found nowhere else in the world. Overhead, above Arizona's highest ridge, white-throated swifts dive and flash like miniature fighter planes as they feed on nearly invisible insects borne on the wind.
Humphreys Trail is steep and long and extremely rocky in its higher reaches. Above treeline it exposes you completely to the whims of nature. Here it may snow during any month of the year. In late summer monsoon storms can set the high country snapping with lightning. Be prepared to turn around and head for lower ground if a thunderstorm is brewing!
Once you do reach the summit ridge you'll feel like you're standing on top of the world. Off in the distance, the Grand Canyon, the Painted Desert, the mesas that are home to the Hopi Indians the Verde Valley and Oak Creek Canyon form a 360deg. panorama. And after you've seen it you'll be able to say you've been as high as you can get in Arizona.
At a Glance
| | |
| --- | --- |
| Usage: | Medium-Heavy |
| Best Season: | Late Spring thru Fall |
| Closest Towns: | Flagstaff, AZ |
| Operated By: | Flagstaff Ranger District - 928-526-0866 |
General Information
Directions:
USGS Map: Humphreys Peak Quad
Location: 14.5 miles northwest of Flagstaff on paved roads.
GPS: N35° 19' 52.248", W-111° 42' 41.76"
Access: From Flagstaff drive north on US 180 for 7 miles to FR 516, the Snowbowl Road. Drive 7.4 miles on this paved road to the lower parking lot of the Snowbowl facility. The trailhead is located at the north end of the parking lot.
General Notes:
Rating: Strenuous
Hiking Time: 3 hours (one way)
Notes:<
No mechanized or motorized vehicles, including bicycles, in Wilderness.
There is no hiking off-trail above treeline in order to protect the San Francisco Peaks Groundsel.
You may camp along the trail (a safe distance from the trail) but you must be at least a mile from Snowbowl property.
No camping above treeline (11,400')
Back-country permits are required in the winter. They can be obtained (no charge) from the Peaks and Mormon Lake Ranger Districts from 7:30 to 4:30, Monday through Friday and they are available at Snowbowl when they are open at the Agassiz Lodge between 9:00 am and 11:00 am on Saturday and Sunday.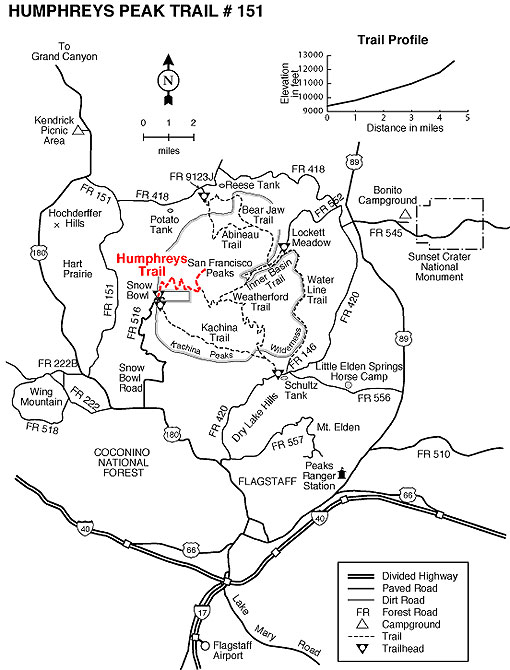 comments powered by