O'leary Peak Trail



Overall Trail Rating
1 = Poor 5 = Outstanding

---
Scenic Views
---
Route Finding
1 = Poor 5 = Excellent

---
Technical Difficulty
1 = Easy 5 = Very Difficult

---
Trail Access
1 = Easy 5 = Hard to get to
---
O'Leary Peak is a lava dome volcano, not a cinder cone like Sunset Crater Volcano.
The hike is along a roadbed, which is rough with pot holes, rocks and eroded sections. You may take your pet on this road on a leash. Summer temperatures can be fatal to pets left in vehicles.
The route up is a blocked off forest service road. Initially, one could drive up to the pass between O'leary and Darton Dome, but the entrance has been pushed back. Now there is about another mile you have to hike to even reach the base of the peak. During this part of the hike, you walk along Sunset Crater's lava flow, which is very impressive. It's worth getting off the trail and checking out.
There are a total of 6 switchbacks to the tower, which is not on the Peak. The peak is O'Leary's western summit. To hike it, get off the road between the two summits and hike up until you reach the top. This is the most difficult part of the climb. The tower sits at 8,916. The view is excellent. You can see into the Inner Basin of the San Francisco Peaks, into the crater of Sunset Crater and to the north you can see the Painted Desert.
At a Glance
| | |
| --- | --- |
| Usage: | Light |
| Best Season: | April thru November |
| Closest Towns: | Flagstaff, AZ |
| Operated By: | Flagstaff Ranger District - 928-526-0866 |
General Information
General Notes:
Rating: Strenuous
Hiking time: Allow 4 to 5 hours round-trip
Area/Length : 5 miles
Latitude : 35.3722
Longitude : -111.5413
Elevation : 6956 at Trailhead
Notes: Be prepared for abrupt weather changes; weather extremes are not uncommon. Although spring is usually mild, heavy snowfall can occur. Summer days are warm with temperatures in the 80s. Expect short afternoon thunderstorms July through September.
Directions:
USGS Map: O'Leary Peak
Location: Just northwest of Sunset Crater
GPS: N35° 22' 18.264", W-111° 32' 29.0754"
Access: From Flagstaff take US 89 north. Turn right on the road to Sunset Crater National Park. Just before entering the park, take a left on Forest service rd 545A. Drive this road about 1/4 of a mile, which is paved. Park here and hike the rest of the way to the top.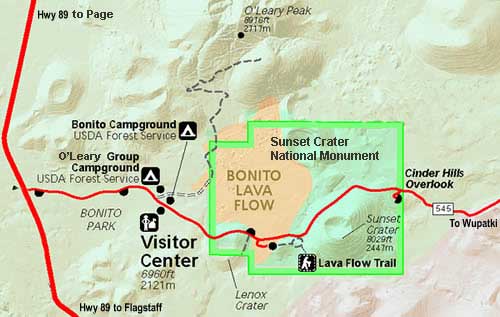 comments powered by