Sycamore Canyon Wilderness Trail System



Overall Trail Rating
1 = Poor 5 = Outstanding

---
Scenic Views
---
Route Finding
1 = Poor 5 = Excellent

---
Technical Difficulty
1 = Easy 5 = Very Difficult

---
Trail Access
1 = Easy 5 = Hard to get to
---
The Sycamore Canyon Wilderness Trail System within the Peaks Ranger District consists of 5 trails with a combined mileage of 11.3 miles with the longest trail being 5.6 miles. These trails include: Kelsey Springs Trail, Dorsey Trail, Winter Cabin Trail, Little Lo Trail, and Hog Hill Trail. Each trail is suitable for day hikes or longer overnight loop hikes.
Sycamore Canyon can be very hot and dry during the summer months. There are several springs located near the Wilderness trails which normally have water year round but hikers should not depend on this water being available and all ground water should always be treated or filtered. There is plenty of shade along all of the trails as you descend into Sycamore Canyon through a thick forest of Ponderosa Pine, Gambel Oak, and Juniper trees. The lower part of Winter Cabin Trail and part of Kelsey Springs Trail takes you through chaparral type vegetation which offers spectacular views of Sycamore Canyon.
Sycamore Canyon is the second largest canyon is Arizona and offers hikers plenty of solitude and natural beauty.
At a Glance
General Information
Directions:
Location: Southwest of Flagstaff, Arizona
USGS Map: Sycamore Point
Wilderness Map: Sycamore Canyon Wilderness map, 2002 available from local Forest Service Offices
Access: Access to the trailheads is by dirt roads which can be extremely rough and even impassable during Monsoon Season and winter months due to mud and heavy snow.
General Notes:
Rating: Mostly moderate with a few short strenuous sections
Notes:
No mechanized vehicles including bicycles in Wilderness.
Fire danger is usually high - be careful with campfires.
Camp at least 200 feet from springs and bury human waste 200 feet from springs - pack out all trash.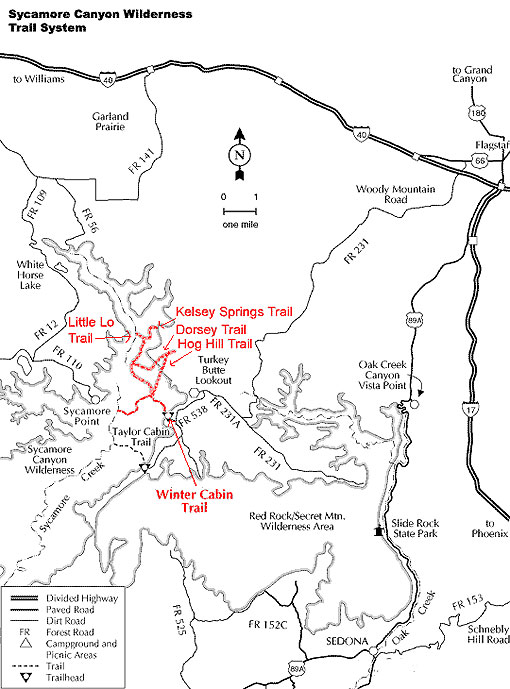 comments powered by