Arizona Trail Blue Ridge Segment



Overall Trail Rating
1 = Poor 5 = Outstanding

---
Scenic Views
---
Route Finding
1 = Poor 5 = Excellent

---
Technical Difficulty
1 = Easy 5 = Very Difficult

---
Trail Access
1 = Easy 5 = Hard to get to
---
The Blue Ridge section of the Arizona Trail stretches across meadows, forests, and canyons from the top of the 2,000 foot Mogollon Rim to Arizona Highway 87 near Blue Ridge Campground. The trail's route across the Mogollon Rim Ranger District begins at General Springs Cabin. This Forest Service Work Station was named after a nearby water source discovered by General George Crook. Crook was famous for his campaigns against the Apaches in this area. Legend has it that he narrowly escaped a band of marauding hostiles here.
From the old cabin, the trail winds down General Springs Canyon concurrent with the Fred Haught Trail named after another historic resident. This leg of the Cabin Loop System leads the Arizona Trail until it reaches the trail junction where the trails separate and the Arizona trail continues to the top of Battleground Ridge. Here it offers good long distance views of the surrounding countryside before descending into East Clear Creek Canyon and crossing that small mountain stream just as it flows into Blue Ridge Reservoir. After steeply descending and then steeply ascending the creek (upstream of Blue Ridge Reservoir) the trail works its way up to FR 751. After crossing FR 751 the trail proceeds east and then north up to the drop into Blue Ridge Campground. From here the trail continues north and finally reaches Highway 87 at the junction with FR 138, the beginning of the Happy Jack Segment.
Click on "Photos & Multi Media" in the right column for a larger view to read the sign.
Rating: Moderate
Notes:
See also the Arizona Trail Association website for more information.
At a Glance
| | |
| --- | --- |
| Open Season: | Spring - Fall (weather permitting) |
| Usage: | Light |
| Closest Towns: | Happy Jack, AZ |
| Operated By: | Mogollon Tim District - 928-477-2255 |
General Information
Directions:
Location: About 60 miles southeast of Flagstaff on paved and graveled Forest Roads and highways.
USGS Map(s): Dane Canyon, Blue Ridge Reservoir
Access: Drive 55 miles south of Flagstaff to Clints Well on Forest Highway 3 (Lake Mary Road), then 8.3 miles southwest on AZ 87 to FR 300 (the General Crook Trail). Turn east about 12 miles to the General Springs trailhead. (FR 300 is closed in winter.) orr turn north from Clints Well about 8.3 miles to the Hay Meadow Trailhead.
Area/Length : 15.8
Latitude : 34.454041
Longitude : -111.250793
Elevation : 7248 at South Trailhead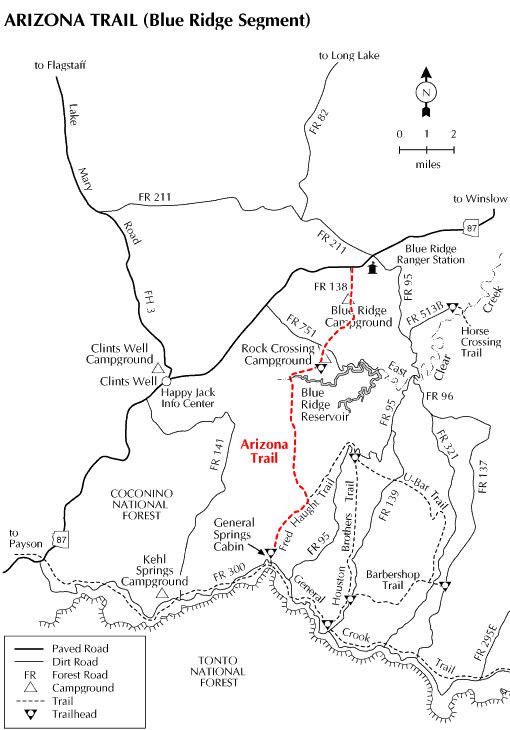 comments powered by