Calloway Trail #33



Overall Trail Rating
1 = Poor 5 = Outstanding

---
Scenic Views
---
Route Finding
1 = Poor 5 = Excellent

---
Technical Difficulty
1 = Easy 5 = Very Difficult

---
Trail Access
1 = Easy 5 = Hard to get to
---
The Calloway Trail starts at the north end of the parking area where it affords a good view into the steep-walled canyon of West Clear Creek. Some of the rock strata visible from the rim includes limestone laid when the area was covered by a shallow sea, and sandstone, the result of deposition as ocean sediment and eolian (windblown) accumulation. Notice the cross-bedding apparent in the wind-deposited sandstone.
The vegetation on the north-facing slope of Douglas fir, ponderosa pine, and Gambel oak stands in contrast to the vegetation on the hotter and drier south-facing slope across the canyon. Once at the bottom of the canyon, it is possible to access areas up and down stream by wading and boulder hopping. The vegetation near the creek consists of riparian species such as cattails, locust, wild grape, willow, box elder and poison ivy. Learn to identify and avoid this three-leaved plant. The creek provides habitat for suckers, blue gill, and trout.
Rating: Strenuous
Notes:
The trail lies within the West Clear Creek Wilderness and is closed to the use of motorized and mechanized transport ( including bicycles).
This trail is not suitable for horse traffic.
At a Glance
| | |
| --- | --- |
| Open Season: | April |
| Usage: | Light |
| Closest Towns: | Happy Jack, AZ |
| Operated By: | Mogollon Rim District - 928-477-2255 |
General Information
Length: 0.5 miles
Longitude: 34.556199
Latitude: -111.476517
Elevation: 6337 at trailhead
Directions:
USGS Maps: Calloway Butte
Location: Southeast of Flagstaff on roads that are either paved or graveled and suitable for passenger cars in most weather.
Access: Approximately 2.5 miles north of the junction of State Routes 87 and 260, turn east onto Forest Road (FR) 144. Follow FR 144 to FR 149. Turn left on FR 149 and then left again on FR 142. Follow FR 142 for approximately 4 miles to FR 142B. Turn onto FR 142B and continue to the roads end. FR 142B is very rough and requires high-clearance vehicles and occasionally four-wheel drive to reach the trailhead.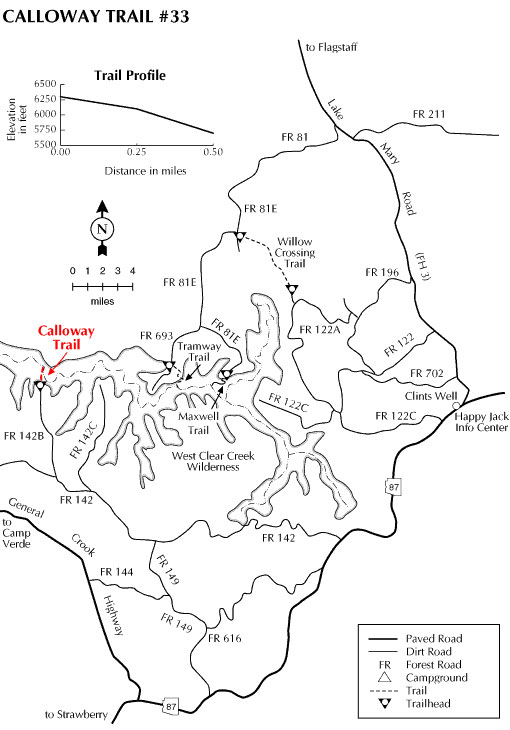 comments powered by