General Crook Trail #130



Overall Trail Rating
1 = Poor 5 = Outstanding

---
Scenic Views
---
Route Finding
1 = Poor 5 = Excellent

---
Technical Difficulty
1 = Easy 5 = Very Difficult

---
Trail Access
1 = Easy 5 = Hard to get to
---
This is a section of the trail which famous Indian fighter General George Crook blazed from Camp Verde to Fort Apache. Besides being of historic note, the Crook Trail follows one of the more striking geologic features in Arizona, the Mogollon Rim. This 2,000 foot escarpment, named for one of the Spanish colonial governors of New Mexico, forms the southern edge of the Colorado Plateau.
The trail plays tag with the edge of this 400 mile-long cliff and the road that parallels it across the Forest. At a number of places the path crosses the road to hug the rim and offer spectacular views of the state's central mountains and desert. Four Peaks, the Sierra Anchas, and the Mazatzals stand out among the scenery. At night, the lights of Payson wink up from 2,000 feet down and 15 miles away. (Click on "Photos & Multimedia" in the right column for an enlarged view of the photo above and of an interpretive sign explaining the trail's origin. This sign is about 1.5 miles east of Kehl Springs Campground..)
If you would rather not hike all of the trail's 25 miles, you can easily retrace just a part of the route. Nearby roads, most notably FR 300, provide easy access to all portions of the trail. Portions of this trail are part of the Cabin Loop Trail system.
Rating: Easy
Hiking time: Up to three days
Notes:
No motor vehicles on the trail; they must stay on FR 300
At a Glance
| | |
| --- | --- |
| Open Season: | April |
| Usage: | Medium |
| Closest Towns: | Happy Jack, AZ |
| Operated By: | Mogollon Rim District - 928-477-2255 |
General Information
Latitude: 34.454270
Longitude: -111.379949
Area/Length: 25 miles
Elevation: 7906'
Directions:
USGS Maps: Dane Canyon
Location: 65 miles (about 2 hours) south of Flagstaff in the cool pines of Mogollon Rim country.
Access: Drive about 55 miles south of Flagstaff on Forest Highway 3. Turn south (right) on AZ 87 and drive 9 miles to FR 300. You'll find a number of access points along this road. FH 3 and AZ 87 are paved. FR 300 is graveled and suitable for passenger vehicles except during winter when it is closed.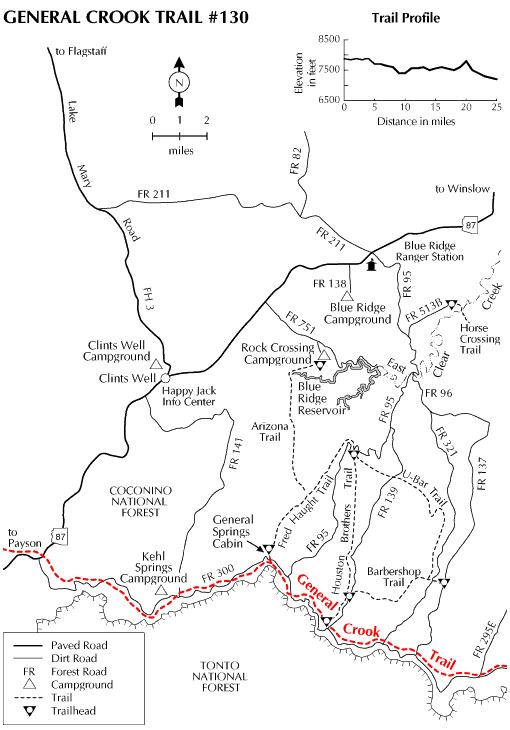 comments powered by Disqus