Myrtle Trail #30



Overall Trail Rating
1 = Poor 5 = Outstanding

---
Scenic Views
---
Route Finding
1 = Poor 5 = Excellent

---
Technical Difficulty
1 = Easy 5 = Very Difficult

---
Trail Access
1 = Easy 5 = Hard to get to
---
This trail extends from the edge of the Mogollon Rim on the Coconino National Forest down to the control road on the Tonto National Forest. There is no parking at the trail head on Forest Road 300, but there are a few clearings across the road. In 1990, the Dude Fire burned through this area, eventually charring 24,000 acres. Throughout the subsequent years, one could watch the vegetation changes due to the regenerative processes.
There are many species of wildlife to view in the area: deer, elk, squirrel, wild turkey and black bear. Dispersed camping is available. Knoll Lake, an excellent trout lake, is located approximately 8 miles northeast on Forest Road 295E. (Forest Road 300 is usually closed each winter during heavy snow season.) In 2002 a lightning-caused fire called the Pack Rat Fire burned over 3000 acres along the rim.
Rating: Easy on the Coconino, most difficult on the Tonto
Length: .3 mile on the Coconino; .7 mile on the Tonto
Elevations: Beginning: 7218, Ending: 6680
At a Glance
Open Season:
Spring
Usage:
Light
Closest Towns:
Happy Jack, AZ
Strawberry, AZ
Operated By:
Mogollon Rim District - 928-477-2255
General Information
Latitude: 34.410141
Longitude: -111.182128
Area/Length: 1 mile
Elevation: 7884'
Directions:
USGS Maps: Dane Canyon
Location: 85 miles Southeast of Flagstaff
Access:
From Clints Well go south 9.5 miles and turn left (east) on FR 300 and go for 19.3 miles to the trail head sign on the right (south) side of the road.
From Phoenix, take Highway 87 north through Payson, Pine and Strawberry to FR 300 and turn right (east). See above
From Payson, take Highway 260 east for 30 miles to FR 300. Turn left (west) and travel 24.8 miles to the trail head sign which will be on your left.
From Camp Verde, follow Highway 260 (FH 9) east 31.5 miles to junction of 260 and 87. Turn left and drive 2.5 miles to FR 300 (mile post 281). Turn right (east) and continue for 19.3 miles to the trail head sign on your right.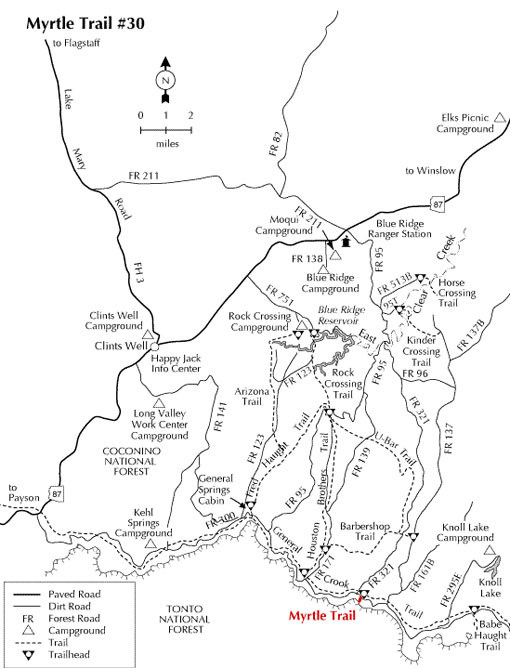 comments powered by Disqus