Tramway Trail #32



Overall Trail Rating
1 = Poor 5 = Outstanding

---
Scenic Views
---
Route Finding
1 = Poor 5 = Excellent

---
Technical Difficulty
1 = Easy 5 = Very Difficult

---
Trail Access
1 = Easy 5 = Hard to get to
---
The trail is one of the only two maintained routes into the upper end of West Clear Creek from the north side. It is a steep trail, affording views of the creek from the rim. The trail lies within the West Clear Creek Wilderness and is closed to the use of motorized and mechanized transport (including bicycles). The trail is not suitable for horse traffic.
The Tramway Trail starts at the south side of the parking area. Portions of West Clear Creek may be seen from the trail as the creek winds its way through the sinuous canyon. Good views of the various rock strata that make up the steep-walled canyon of West Clear Creek are afforded in the upper stretch of the trail. The rocks exposed near the rim are predominantly limestone laid down when the area was covered by a shallow sea. Once in the canyon, the rock type changes to sandstone, the result of deposition as sediment in an ancient ocean and by eolian (windblown) deposition. Look for the cross-bedding apparent in many of the cliff faces from this eolian deposition.
Due to the southerly exposure of the trail, vegetation found on this side of the canyon consists of more heat-tolerant species such as yucca, agave, and shrub oak. Near the bottom of the canyon, these heat-tolerant plants are replaced by more typical upper riparian vegetation of Douglas-Fir, white fir, pine, oak, and ash. Growing along the creek are wild sunflowers, cattails, locust, wild grape, willows, and box elder. The trail ends at the creek but by bushwhacking it is possible to access areas downstream and upstream, including the Maxwell Trail #37.
See "Overview/Background" in right column for some history on the Tramway Trail.
Rating: Strenuous
Notes:
Mechanized vehicles, including mountain bikes, are not permitted in the Wilderness.
At a Glance
| | |
| --- | --- |
| Open Season: | April |
| Usage: | Light-Medium |
| Closest Towns: | Happy Jack, AZ |
| Operated By: | Mogollom Rim District - 928-477-2255 |
General Information
Latitude: 34.554880
Longitude: -111.433645
Area/Length: 0.7 miles
Elevation: 6641 at trailhead
Directions:
USGS Maps: Calloway Butte
GPS: 34° 33.478', 111° 25.228'
At Bottom of Canyon: 34° 33.272', 111° 25.226'
Location: Southeast of Flagstaff on roads that are either paved or graveled and suitable for passenger cars in most weather.
Access: From Happy Jack Ranger Station, follow Forest Highway 3 (Lake Mary Road) south 7.5 miles to Forest Road (FR) 81. Go right (west) on FR 81 approximately 4 miles to the junction of FR 81 and FR 81E. Go left on FR 81E and go approximately 4 miles to FR 693. Take FR 693 and follow signs to the trailhead. High clearance vehicles are recommended and the road may not be passable during wet weather.
From Clints Well (junction of State Route 87 and the FH-3) drive north on FH-3 approximately 7 miles to FR 81. Turn left (west) and proceed as above.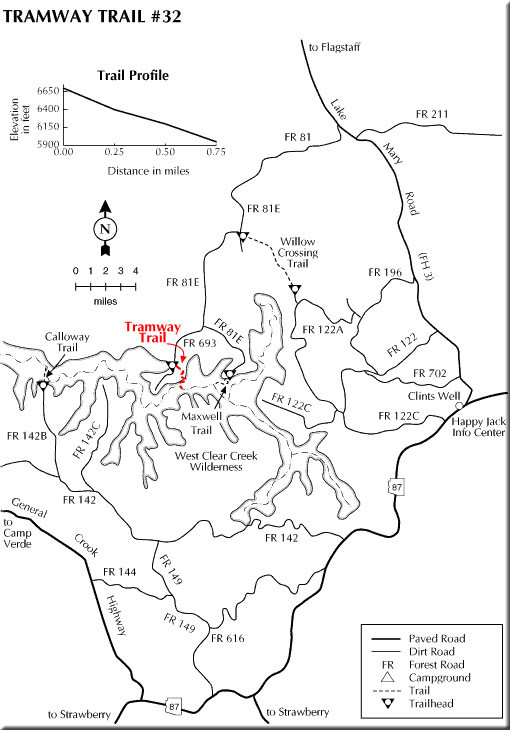 comments powered by Disqus