Baldwin Trail



Right Click and "Save Link As.."

Overall Trail Rating
1 = Poor 5 = Outstanding

---
Scenic Views
---
Route Finding
1 = Poor 5 = Excellent

---
Technical Difficulty
1 = Easy 5 = Very Difficult

---
Trail Access
1 = Easy 5 = Hard to get to
---
Templeton, H.T. and Baldwin Trails
These recently developed trails have Cathedral Rock as their centerpiece. They are very scenic, but mostly un-shaded and can be very hot in summer.
The Templeton Trail begins off the Bell Rock Pathway just north of Bell Rock, goes under Route 179 through a tunnel and heads northwest. It intersects the H.T. Trail at 1 mile. (New as of 4/20/2007: there is a new alignment for the Templeton Trail. A new box culvert has been installed to take the trail under the new road construction. Also, cairns have been installed to help people find their way. Go through the box culvert - it even has the trail name on it!)
H.T. Trail is a 3/4 mile connector trail which goes northeast, passes under Route 179, and ends at the Bell Rock Pathway about 1/4 mile south of the Little Horse trailhead parking area. Good views of the Chapel area rock formations and Courthouse Butte.
The Templeton Trail continues northwest and onto a shoulder of Cathedral Rock where it intersects the middle of the Cathedral Rock Trail at 2.4 miles. The Templeton Trail continues ahead over level ground and curves around the north end of Cathedral Rock where there are great views. It then descends steeply and follows beside the creek for a time. The trail ends at 3.5 miles at its intersection with the Baldwin Trail which comes in from the left through a fence line and continues ahead (see below).
The Baldwin Trail starts across the road from the south side of Red Rock Crossing (Crescent Moon) parking area near the end of the Verde Valley School Road. There is no way to drive across creek to north side of Red Rock Crossing. It heads east and soon drops down a bit to the riparian zone valley floor, near but out of sight of the creek. With many side trails accessing swim spots on Oak Creek. At 1/2 mile, it meets the end of the Templeton Trail. The Baldwin Trail forks sharply right and climbs moderately through a draw between Cathedral Rock and a red rock butte. Nice views of Cathedral Rock and back to Wilson Mountain. It levels out and then begins a gradual descent to the southwest and ends at Verde Valley School Road at 1.6 miles. Great biking trail loop.
Length: Templeton: 3.5 miles; Baldwin: 1.6 miles, H.T. (connector trail): .75 miles
Rating: Easy
Hiking time: Call for information
USGS Maps: Sedona
At a Glance
| | |
| --- | --- |
| Fees | Red Rock Pass required (or its equivalent) - Minimum $5.00 |
| Open Season: | Year 'round |
| Usage: | Light-Medium |
| Busiest Season: | Summer |
| Operated By: | Red Rock District - 928-203-2900 |
General Information
Latitude: 34.821890
Longitude: -111.808060
Length: 1.6 miles
Elevation: 4013 at trailhead
Directions:
Access:
Templeton: This trail has four access points: 1) from Bell Rock Pathway 1/3 miles north of Bell Rock; 2) from the Little Horse Trail parking area (Route 179 and mile post 309.8) and taking the Pathway south .3 miles to the H.T. Trail and then 3/4 miles southwest; 3) via the Cathedral Rock Trail for .3 miles from its trailhead off Back O'Beyond Road; 4) from the Baldwin Trail (see map).
Baldwin: There are three access points for the Baldwin Trail. 1) from the south side of Red Rock Crossing (Crescent Moon) parking area near end of Verde Valley School Road (4.8 miles from Route 179); 2) from Verde Valley School Road 4.0 miles from Route 179 (no trailhead parking); 3) from the Templeton Trail (see above).
General Notes: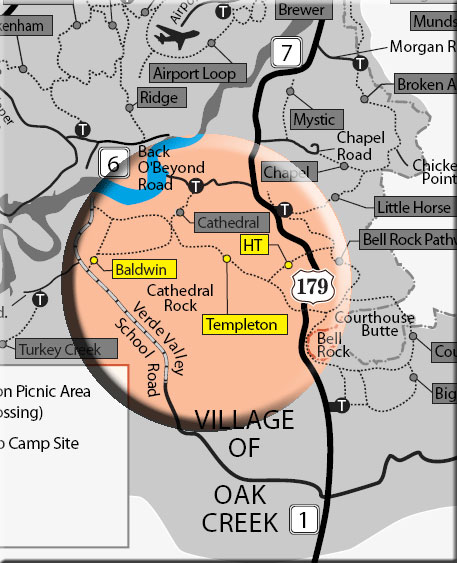 comments powered by Disqus