Cookstove Trail #143



Right Click and "Save Link As.."

Overall Trail Rating
1 = Poor 5 = Outstanding

---
Scenic Views
---
Route Finding
1 = Poor 5 = Excellent

---
Technical Difficulty
1 = Easy 5 = Very Difficult

---
Trail Access
1 = Easy 5 = Hard to get to
---
Originally built to provide access for forest firefighters to Oak Creek Canyon's wooded slopes, Cookstove Trail now offers nature lovers a scenic route to the canyon rim. The trail starts from the north end of Pine Flat Campground and immediately begins switchbacking up the steep slope of the canyon's east wall. It climbs through an area forested with stands of mixed conifers, Gambel Oaks and both Utah and alligator junipers. The trees part at a number of points along the trail offering good views of the buff- colored cliffs of Coconino Sandstone and the remnants of an old volcano across Oak Creek. There are also some good views of the Route 89A switchbacks that lead into the canyon.
At the top of the climb, an outcrop of volcanic basalt provides a lunch stop where you can enjoy the view before heading back down the trail or continuing south along the canyon rim to the Harding Springs Trail for an alternate descent back to the highway.
Rating: Moderate to strenuous
Hiking time: 1 hour round trip
Notes: No motor vehicles. This trail can be hot and dry in summer.
USGS Maps: Mountainaire
At a Glance
| | |
| --- | --- |
| Open Season: | Year 'round |
| Usage: | Medium |
| Best Season: | April to November |
General Information
Latitude: 35.0145477544034
Longitude: -111.737688276021
Length: 0.7 miles
Elevation: 5600 at trailhead - 6600
Directions:
Location: 15 miles south of Flagstaff (12 miles north of Sedona) on paved roads in scenic Oak Creek Canyon. Elevation is 5500 feet.
Access: Drive 15 miles south from Flagstaff or 12 miles north from Sedona on Arizona Highway 89A. The Cookstove trailhead is located near milepost 387 at the north end of Pine Flat Campground across from a roadside water stop.
General Notes: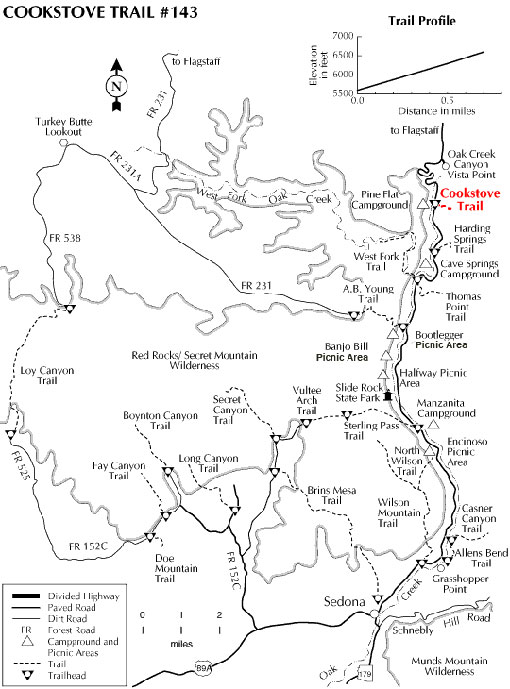 comments powered by Disqus