Dry Creek Trail #52



Right Click and "Save Link As.."

Overall Trail Rating
1 = Poor 5 = Outstanding

---
Scenic Views
---
Route Finding
1 = Poor 5 = Excellent

---
Technical Difficulty
1 = Easy 5 = Very Difficult

---
Trail Access
1 = Easy 5 = Hard to get to
---
This trail is an infrequently used trail that has a true remote feel. It is shady and can be hiked in summer.
Begin at the Dry Creek trailhead west of the parking area across a wash. The trail immediately enters Wilderness Area and turns right as it meets Dry Creek and follows along this usually dry streambed. At .75 miles, there is a junction with Bear Sign Trail. Dry Creek Trail continues ahead to the right. The trail climbs gradually parallel to the drainage with views of the red rock walls of this rugged canyon.
Later, the trail narrows and becomes less distinct, but is never far from the dry streambed. At 2.5 miles, the trail crosses a large wash and becomes much harder to follow. If you do not have good route finding skills, this junction is a good place to turn back. If you decide to continue, cross the wash, turn to the right, and follow the wash to the north for approximately one more mile, coming close up under the Mogollon Rim in a dense stand of ponderosa pine. The trail ends here. Return by the same route for a 6 mile hike.

At a Glance
| | |
| --- | --- |
| Open Season: | Year 'round |
| Usage: | Light |
| Closest Towns: | Sedona, AZ |
| Operated By: | Red Rock Ranger District - 928-203-2900 |
General Information
Latitude: 34.937342
Longitude: -111.794600
Length: 3 miles
Elevation: 4812
Directions:
USGS Map: Wilson Mtn.
Location: About 42 miles south of Flagstaff (12 miles west of Sedona) on paved and gravelled roads.

Access: Drive 27 miles south from Flagstaff to Sedona on US 89A. Continue through Sedona to Dry Creek Road (152C) at the west end of town. Turn right on Dry Creek Road and drive for two miles to Forest Road 152. This road is rough; high clearance vehicles recommended. It is not recommended during wet weather. About 4.3 miles up this road you will reach a small sandy opening or turn-a-round. Park here and proceed hiking out the east end of the opening along a short jeep trail which deadends at a drainage. Continue on the foot path up the canyon.
General Notes:
Rating: Moderate
Hiking Time: Allow 4-5 hours for a round-trip.
Cumulative Elevation: 790 ft.
Location: 38 miles south of Flagstaff in scenic Red Rock Country.
Note: Watch for poison ivy in the dry creek crossings.
Accessibility: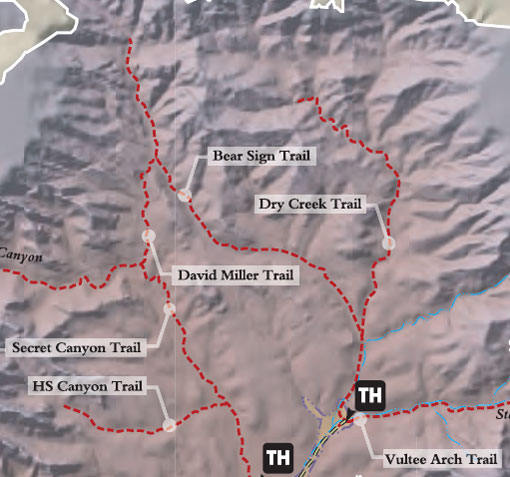 comments powered by Disqus