Flume Trail



Right Click and "Save Link As.."

Overall Trail Rating
1 = Poor 5 = Outstanding

---
Scenic Views
---
Route Finding
1 = Poor 5 = Excellent

---
Technical Difficulty
1 = Easy 5 = Very Difficult

---
Trail Access
1 = Easy 5 = Hard to get to
---
The Flume Trail on Fossil Creek starts at the old Arizona Public Service Irving Power Plant location and follows the line of the since-removed flume that carried the water from the dam to the power plants for generating electricity.
The trail follows the old APS flume access road along the canyon hillside and ends at the old dam, a five mile trek one way. The trailhead is located on Forest Road 708 just north-east of the Fossil Creek Bridge. It shares a parking lot with the Irving swimming hole. Visitors must cross the creek at the low water crossing and follow the path through the old residential area.
WARNING
Because of traffic problems, occasionally the roads will be closed. Click here for notice with photos about periodic road closures. For an up-to-date information recording, call the Fossil Creek Hotline at 928-226-4611.
At a Glance
| | |
| --- | --- |
| Open Season: | Year 'round |
| Usage: | Medium |
| Closest Towns: | Starwberry, AZ and Camp Verde, AZ |
| Restroom: | Temporary portable toilets at trailhead |
| Operated By: | Red Rock Ranger District - 928-203-2900 |
General Information
Latitude: 34.403209
Longitude: -111.617338
Length: 5 miles
Elevation: 3769 at trailhead
General Notes:
Attractions: Trails for hiking and horseback riding, swimming holes, waterplay, unique rock formations, great scenery, wildlife viewing, lush riparian area
Notes:
Mechanized vehicles, including mountain bikes, are not permitted in the Wilderness.
This area can be quite hot in summer. Bring your own drinking water.
Related Links
Directions:
Location: About 30 miles southeast of Camp Verde or 86 miles south of Flagstaff off paved and graveled roads some of which are always steep and VERY rough and usually muddy after rains. The road from Strawberry is now closed..
Access: Two routes provide access to Fossil Springs Wilderness: from Camp Verde via FH 9 (Hwy 260) and FR 708, or from Flagstaff via FH 3 to Hwy 87 through Strawberry and FR 708.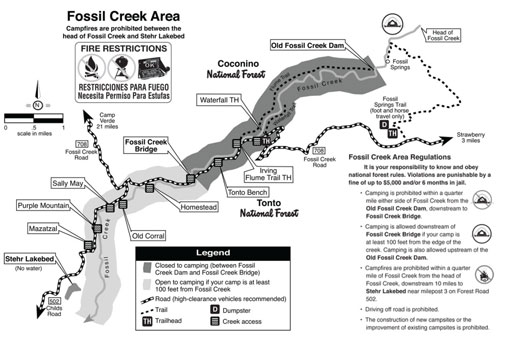 comments powered by Disqus