Fossil Springs Trail #18



Right Click and "Save Link As.."

Overall Trail Rating
1 = Poor 5 = Outstanding

---
Scenic Views
---
Route Finding
1 = Poor 5 = Excellent

---
Technical Difficulty
1 = Easy 5 = Very Difficult

---
Trail Access
1 = Easy 5 = Hard to get to
---
The trail to Fossil Springs follows a steep, dusty old jeep road two miles down past an old gravel pit. There is a lot of loose rock on this part of the trail making it easier to go down than the return climb out. The trail then turns south and goes a half-mile to the springs. From this trail you can discover the little Shangri La where you can swim, picnic, study fossils, or explore the waters of travertine pools along the creek.
The millions of gallons of 72ºF water that gush from the springs every hour have created a lush environment which supports over 30 types of trees and bushes and over 100 species of birds. The Canyon walls near the springs contain small fossils from an ancient sea that washed over the area 350 million years ago. The wood flume, built in 1916, used to supply water from the springs to the Irving and Childs Power Plants which relied on its water to turn their power generating turbines. Any further intrusions are now prohibited since the area became the 12,000-acre Fossil Springs Wilderness in 1984.
WARNING
A portion of Forest Road 708 is closed from Fossil Springs Trailhead to Waterfall Trailhead until further notice. This closure is in effect to provide public health and safety.
The only way to access the Fossil Springs Trailhead by motor-vehicle is to take the road from Strawberry.
At a Glance
| | |
| --- | --- |
| Open Season: | Year 'round |
| Usage: | Heavy |
| Closest Towns: | Strawberry, AZ (10 miles) Camp Verde, AZ (21 miles) |
| Operated By: | Red Rock Ranger District - 928-203-2900 |
General Information
Latitude: 34.406742
Longitude: -111.568443
Length: 3.1 miles
Elevation: 4303 at springs - 5689 at trailhead
Directions:
Location: North and west of Payson.
Access: From Stawberry, AZ, take FR 708 to end of road. Trailhead will be on your right.
Attractions:
trails for hiking and horseback riding
unique rock formations
great scenery
wildlife viewing
lush riparian area
Hiking Time: 4 - 6 hours (round trip)
Rating: Difficult
Notes:
No motorized of mechanical equipment including trail bikes.
Spring water is not suitable for drinking.
This will be a very hot hike in summer. Carry plenty of water.
Carry all waste material out with you.
General Notes:
Related Links:
Native Fish Restoration in Fossil Creek (coming soon)
NAU's Fossil Creek Webpage for some more information.
Fossil Creek has been designated a "Wild & Scenic River". The Forest Service is working on developing a Management Plan for the area.
For more information contact:
Tonto National Forest, Payson Ranger District, 1009 E. Hwy 260, Payson, AZ 85541, (928) 474-7900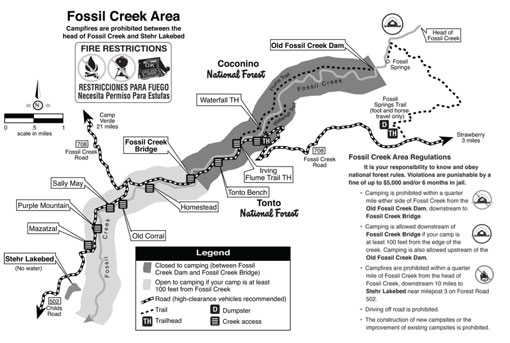 comments powered by Disqus