Schnebly Hill Trail #158



Right Click and "Save Link As.."

Overall Trail Rating
1 = Poor 5 = Outstanding

---
Scenic Views
---
Route Finding
1 = Poor 5 = Excellent

---
Technical Difficulty
1 = Easy 5 = Very Difficult

---
Trail Access
1 = Easy 5 = Hard to get to
---
Schnebley Hill and Munds Mountain Trails
The Schnebly Hill Trail climbs moderately and steadily up the west face of Schnebly Hill following the original alignment of Schnebly Hill Road. There are some magnificent red rock views for the first .75 miles which is unshaded. The trail enters partial shade and at 1.25 miles, where the roadbed turns sharply to the left, take the trail on the right which is signed "Munds, Jacks, Hot Loop". It climbs moderately in shade for nearly .75 mile, passing through 2 cattle gates, and emerging on a large, open expanse near Committee Tank.
There are several overlooks offering great views of Munds Mountain, Bear Wallow Canyon and the red rock formations beyond. The trail is level for the next quarter mile and then descends to a saddle separating Schnebly Hill and Munds Mountain at the head of Jacks Canyon. More nice views. Just before reaching the saddle, there is a signed trailhead on the left for Hot Loop. Continue down another 150 yards where there are two more signed trailheads. The Jacks Canyon Trail leads down to the left.
The Munds Mountain Trail begins here and continues ahead, beginning a steep, switchback ascent, climbing 500 feet in a little over a half-mile. There are fine views over Jacks Canyon and the rim country all the way to the San Francisco Peaks near Flagstaff. The trail flattens out as it emerges on the broad, open, flat expanse of the mountain top. The trail continues on, but it is never close to the edge and views are limited, so this is a good place to turn around. Return by the same route.
Length: 3.1 miles one-way (as described)
Rating: Strenuous
Hiking Time: Allow 4 hours roundtrip
Notes:
Bicycles are welcome on Schnebly Hill Trail to the Wilderness boundary. Bicycles are prohibited in the Wilderness.
Cyclists: Please control your speed at all times and be prepared to stop quickly. Expect to find someone on the trail around every corner. Remember, it is the cyclist's responsibility to yield to all other trail users.
Livestock (horses) not recommended on Munds Mountain Trail due to steep vertical drops.
Please stay on the trail to help protect fragile soils and plants and to preserve the area's natural splendor.
The Schnebly Hill trail is 1.1 miles long.
At a Glance
| | |
| --- | --- |
| Open Season: | Year 'round |
| Usage: | Light-Medium |
| Closest Towns: | Sedona, AZ |
| Operated By: | Red Rock District - 928-203-2900 |
General Information
Latitude: 34.882138
Longitude: -111.711071
Length: 1.1 miles
Elevation: 5591 at Schnebley Hill Trailhead
Directions:
USGS Map(s): Munds Park and Munds Mountain
Location: 31 miles south of Flagstaff in scenic Red Rock Country.
GPS: Schnebly Hill Vista: N34° 53' 22.632", W-111° 42' 11.412"
Access: From the junction of Routes 89A and 179, take 179 south .3 miles. Turn left on Schnebly Hill Road just past the Oak Creek Bridge and go 5 miles (.6 miles beyond the winter closure gate) to a turnout on the left. This road is very rough but passable for passenger cars. Park here and walk 100 yards down the road to the signed trailhead for Schnebly Hill Trail on the east side.
General Notes: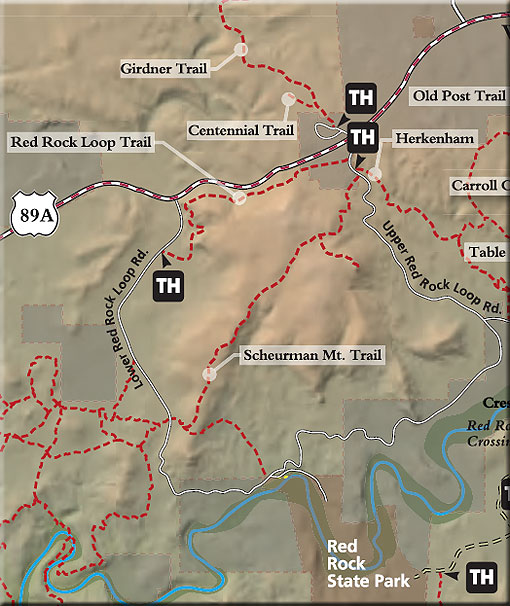 comments powered by Disqus