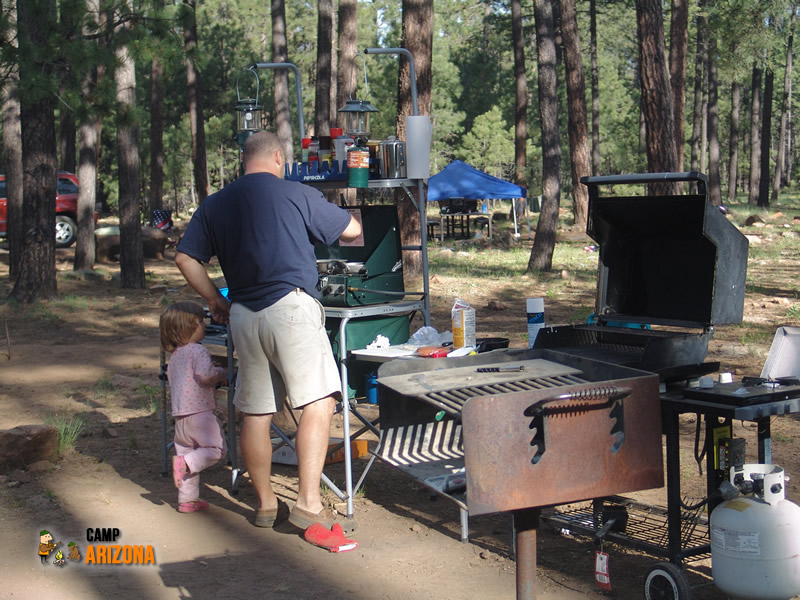 Cast Iron Cooking - Huevos Rancheros
May 31, 2017

Huevos Rancheros, an Arizona staple and one of my favorite breakfast meals to make while camping. It's easy and quick and the camping version can be made in a cast iron skillet using just about any cooking method, Camp Chef Stove, Coleman or over the fire. The only thing that you really need to do seperately while camping is to cook the eggs. Most recipes call for adding the eggs then trowing them in the oven to finish. When we are camping, that's pretty much not going to happen. So just do the eggs on the side and slide them on at the last minute to finish the dish. Here's what you are going to need.
Cast Iron Skillet
Non Stick Skillet or griddle or your camp chef stove.
Tongs
Camp Chef/Coleman/Fire (any one of the cooking methods)
hot pads
serving spoon
cooking spray
Ingredients
2 tbsp olive oil
1/4 cup diced onion
1 tsp minced garlic
1 15oz. can light red kidney beans (drained)
1 15oz. can black beans (drained)
1/2 cup chicken stock
1 1/2 cup chopped tomatoes (split) or 1 can Rotel Tomatoes
1 4 oz. can diced green chilies (Jalapenos if you like more heat)
1 Packet taco seasoning
4 eggs
1 avocado sliced
Cojito or any crumbly cheese I prefer Feta
1/4 cup chopped cilantro
4 Corn tortillas or 12 street taco tortillas
2 limes
Salt and pepper to taste
Your favorite hot sauce
Directions
Preheat cast iron skillet and cook tortillas ahead of time. Lightly oil skillet (or use cooking spray) and cook each tortilla about 30 seconds on each side. cover with paper towels and keep warm between paper plates.
Once the tortillas are cooked, add olive oil and onions to the cast iron skillet. Sautee onions until nicely browned. Add garlic and cook for another minute. Do not let garlic burn. Add both cans of beans, chicken stock, 1 cup tomatoes (or 1 can rotel), green chilis and taco seasoning and simmer for 5 to 7 minutes. Squeeze juice from 1 lime into the pan stir occasionally. Cut the other lime into 8 slices. Slice avocado. Cook over easy eggs in a non stick skillet or griddle on your camp chef stove. Once the eggs are done, slide them onto the Cast iron Skillet on the beans and tomatoes. Garnish with avocado slices and remaining tomatoes. Sprinkle with the chopped cilantro and crumbled cheese. add a touch of salt and pepper to taste. Plate one corn tortilla and a wedgeor two of lime for each person and place the cast iron skillet on a hot pad in the middle of the table. Serve family style with your favorite hot sauce.
Alternate ideas
Try adding cooked chorizo, bacon, shrimp or chicken for a heartier meal.
Enjoy,
Chris