Rainbow Campground sits just above Big Lake and has most of the amenities you would want out of a campground. Just outside the entrance to the campground is a visitors center, a dump station and a shower facility that offers hot showers. Just around the corner from the campground is a country store that has a nice selection of camping needs, including boat rentals. For boat rentals call 928-521-1387. Store hours are as follows; weekend:6:00 am-6:00 pm, all other days 8:00 am-5:00 pm. Activities in the Big Lake Recreation Area include fishing, boating, horseback riding, hiking, mountain biking and wildlife viewing.
A boat ramps are available near Brookchar Campground and
The lake is regularly stocked with rainbow trout and without a doubt, you can catch some big fish here. Check out the numerous photos at the store for proof.
Not far from Big Lake is both the Lee Valley Recreation Area and the East Fork Recreation Area. At Lee Valley, there are great hiking and horseback trails leading up the mountain. At the East Fork, the stream fishing really doesn't get much better in Arizona. For more information check out the visitor center at Big Lake.
Here is the link for the Big Lake Tackle and Supply located on the lake for information about boat rentals.

Rainbow Campsite 360 Degree Panoramas
Click Here for Rainbow Campsite Panoramas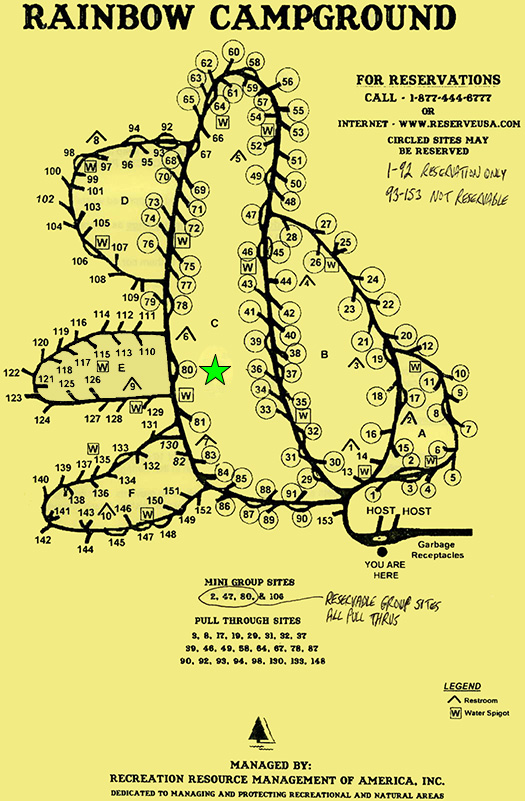 Directions
From Springerville travel west 5 miles to the Big Lake turnoff (AZ261). Travel up the mountain 18 miles to FR 113 and turn left. Travel 2 miles to the Big Lake entrance (FR115) and turn right. The campground is 1 mile ahead.

Overall Rating
---
Available Amenities
---
Cleanliness
---
Fishing
---
Campsite Spacing
1- Tight 5- Spreadout
---
Camp Host
---
Good for Kids
---
Other Nearby Campgrounds
East/West Fork Black River Campgrounds
Diamond Rock
Aspen
Deer Creek
Raccoon
Horse Springs
Buffalo Crossing
West Fork

Alpine Area Campgrounds
Big Lake Area Campgrounds
Apache Trout
Cutthroat
Grayling
Brook Char

White Mountain Indian Reservation Capgrounds


Reservation Lake
Pacheta Lake
Drift Fence Lake
Other