Mooney Trail #12



Right Click and "Save Link As.."

Overall Trail Rating
1 = Poor 5 = Outstanding

---
Scenic Views
---
Route Finding
1 = Poor 5 = Excellent

---
Technical Difficulty
1 = Easy 5 = Very Difficult

---
Trail Access
1 = Easy 5 = Hard to get to
---
This trail was originally built to drive cattle to and from summer pastures on the rim and is still used for this purpose. Because of this relationship to ranching, this is a wide, well constructed trail. The trail begins next to Black Tank at the junction of FR's 525C and 9551. The trail turns due north along FR 9551A. The road ends at Sebra Tank and the foot path begins. Both of the two-track roads are rough but driveable. The wilderness boundary is along the 9551A road so take care not to drive off the road.
From Sebra Tank the trail follows Mooney Canyon for about a mile at which time it starts a steep ascent to the top to the rim. Views are outstanding not only from the top but all along the way. Shade is available in the riparian zone of the canyon but once on the slopes of the canyon, shade becomes scarce. The trail tops out at the junction of Taylor Cabin and Casner Mountain trails. These trails offer some alternatives to returning by way of the same route. Please note that this can be a very hot hike during the warm months. Take plenty of water!
Rating: Strenuous
Hiking time: Plan on a full day.
Notes: No motorized or mechanized vehicles in Wilderness.
At a Glance
| | |
| --- | --- |
| Open Season: | Year 'round - snow may be present in winter |
| Usage: | Light-Medium |
| Closest Towns: | Sedona, AZ |
| Operated By: | Red Rock District - 928-203-2900 |
General Information
Latitude: 34.906392
Longitude: -111.963824
Length: 4.2 miles
Elevation: 4506 at trailhead
Directions:
USGS Maps: Loy Butte
Location: About 40 miles south of Flagstaff (10 miles west of Sedona) on paved and graveled roads.
Access: Drive 30 miles south from Flagstaff through Sedona on US 89A. Five miles past Sedona turn north on FR 525 and follow the signs to Sycamore Pass. Turn west on FR 525C and continue for 5 miles to the trailhead. Watch for the trailhead sign on your right along FR 9551 next to Black Tank.
General Notes: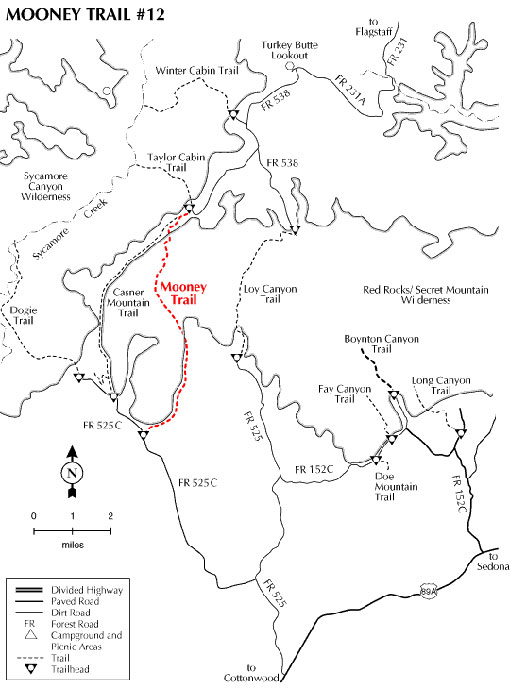 comments powered by Disqus