Vultee Arch Trail #22



Right Click and "Save Link As.."

Overall Trail Rating
1 = Poor 5 = Outstanding

---
Scenic Views
---
Route Finding
1 = Poor 5 = Excellent

---
Technical Difficulty
1 = Easy 5 = Very Difficult

---
Trail Access
1 = Easy 5 = Hard to get to
---
An easy hike along the bottom of Sterling Canyon. The drainage is dry most of the year. Shade is available, but it would be wise to carry some water in the warm months.
The signed trailhead is on the east side of the parking area. The well maintained trail almost immediately enters Wilderness and climbs gradually in the shade of Arizona cypress beside a dry stream bed on the floor of Sterling Canyon. There are occasional views of red rock formations to the left and of the sheer walls of Lost Wilson Mountain on the right. After .75 miles, the trail enters stands of ponderosa pine and oak which show the scars from the 1996 "Arch" fire. Nearing the 1.75 mile point, there is a marked fork. Sterling Pass Trail branches off to the right. Keep left and continue 100 yards where the trail ends at a large red rock outcrop. There are nice views of the canyon, mountains and of Vultee Arch, about .25 miles the north.
The trail dead ends at a bronze plaque placed in memorium of Gerard and Sylvia Vultee who lost their lives in an aircraft crash on January 29, 1938. The actual crash site is more than a mile north and at a much higher elevation, on East Picket Mesa. On the north side of the canyon across from the plaque is the sandstone arch named for Vultee, an early aircraft designer from California. Just before the plaque site there is a junction with the Sterling Pass Trail which continues over into Oak Creek Canyon.

At a Glance
| | |
| --- | --- |
| Current Conditions: | The road to Vultee Arch is very primitive and suitable for high-clearance vehicles only. |
| Usage: | Heavy |
| Closest Towns: | Sedona, AZ |
| Operated By: | Red Rock District - 928-203-2900 |
General Information
Latitude: 34.937106
Longitude: -111.794187
Length: 1.75 miles
Elevation: 4803 at trailhead
General Notes:
WARNING
The road to Vultee Arch is very primitive and suitable for high-clearance vehicles only.
Directions:
USGS Maps: Wilson Mtn.
Location: About 42 miles south of Flagstaff (12 miles west of Sedona) on paved and gravelled roads.
GPS: N34° 56' 12.1554", W-111° 47' 44.412"
Access: Drive 27 miles south from Flagstaff to Sedona on US 89A. Continue through Sedona to Dry Creek Road (152C) at the west end of town. Turn right on Dry Creek Road and drive for two miles to Forest Road 152. This road is rough; high clearance vehicles recommended. It is not recommended during wet weather. About 4.3 miles up this road you will reach a small sandy opening or turn-a-round. Park here and proceed hiking out the east end of the opening along a short jeep trail which deadends at a drainage. Continue on the foot path up the canyon.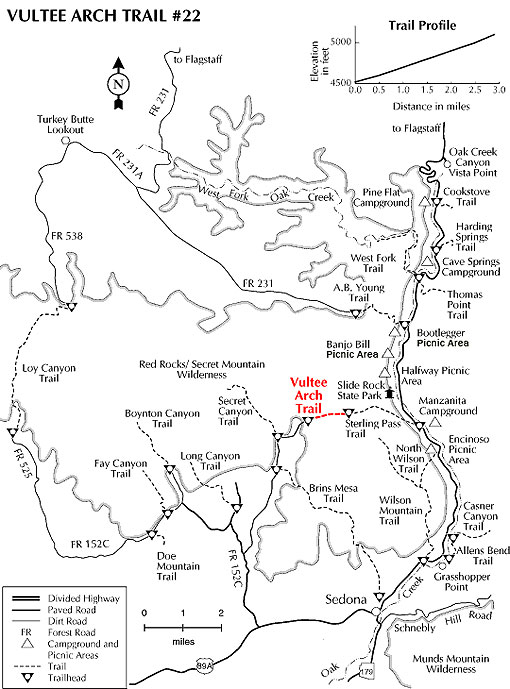 comments powered by Disqus