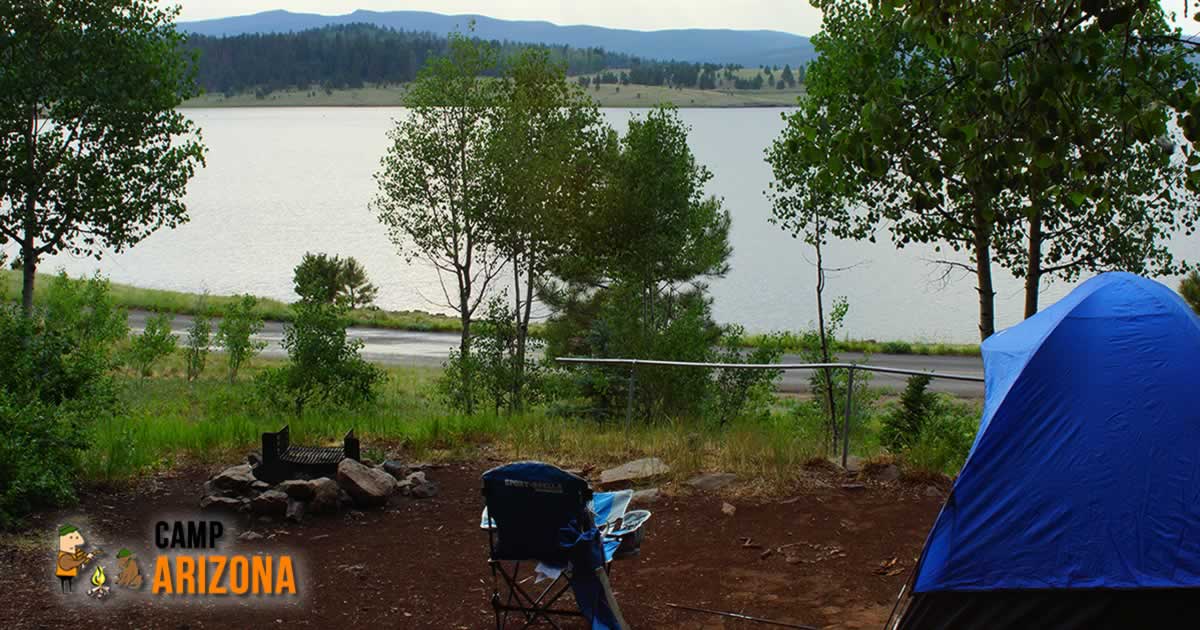 How to find a last minute campsite on a busy holiday weekend!
May 19, 2014

So, you've procrastinated and it's too late to make a reservation and now you are stuck with the reality that you are heading up camping on Memorial Day, Fourth of July or Labor Day weekend without a reservation. Any of the big three holidays will have the same results, stay positive, there are options, and we will go over them here.
The campgrounds up in the mountains will be bustling by Friday afternoon with those who prepared for the weekend months ago by making reservations. Most of those people made reservations in January or February, especially for those hard to get campsites at Woods Canyon Lake, Oak Creek, Flagstaff and the White Mountians. Even the Southern Arizona campgrounds get bombarded those weekends.

So, you ask yourself, how do I get a good campsite on a walk up basis? Here are a few pointers to get a site, then we'll break it down by area. Let's assume that you are going to head up sometime on Friday.
First off and most important, arrive as early as possible. PREFERABLY BY NOON! The longer you wait to get up there, the harder it is going to be to get a site.
As a guide, most developed campgrounds are or will be very close to filling up by 4 or 5 pm.
Don't get discouraged if your first choice of a campground is full.
Ask the camp host at the first campground you go to what might be the next closest campground that might have availability.
Check out our camping map ahead of time for the area you are thinking of going to write down or print out the campgrounds in the area.
Be prepared to camp dispersed (dry camping) There are some superb places to camp that are not in a developed campground.
For dispersed camping, bring things with you that you might not bring if you were camping in a developed campground like a porto potty, a 5 gallon water jug (you can fill up your water at any campground) , a shower enclosure, a propane fire ring and extra trash bags.
Mogollon Rim area, Arizona's busiest camping area.
Don't even think of trying to get a site at Spillway at Woods Canyon Lake, that has been booked for months.
Check out Aspen Campground at Woods Canyon Lake, it is the largest campground in the area and has a campground availability chart for campgrounds in the area at the check in kiosk. Ask the camp host for your best bet if that campground is full.
The farther back you go along Forest Road 300 the better your chances will be. Try Bear Canyon Lake or Knoll Lake. They are a healthy drive away, but fill up after the Woods Canyon Area.
Take a drive along Forest Road 300 (Rim Road) There are a few campgrounds along the road both developed and dispersed including Rim and Mogollon campgrounds which are both developed and FR 9350 which is dispersed and possible one of the best dispersed campgrounds in the state. FR 195 tucked in behind Woods Canyon Lake is also a great dispersed camping area and can be reached along Forest Road 300 a couple miles past Woods Canyon Lake on the right.
Head further east along SR260. Drive a mile past Willow Springs Lake and turn right onto Young Road. Along this road there is an abundance of dispersed camping some even have camp hosts. about a mile south along Young Road on the right is dispersed camping area FR171 (Old Rim Road) and a bit further down the road (2 miles and 2.3 miles) on the right are two other great dispersed camping areas. Further down the road, you will run into Colcord Ridge Campground, a developed campground which is a good place to try right off the bat when you get up there.
If you turn left on Colcord Ridge Road, you can head down and try your luck at Upper Canyon Creek campground or Airplane Flat Campground.
A few hidden gems in the area are Valentine Ridge Campground and Black Canyon Rim Campground.
Call the Apache Sitgreaves National Forest at 928-333-4301 for possible updates.
Sedona and Flagstaff Areas
Cave Springs and Manzanita will be full early friday afternoon if not earlier. I have camped there in Memorial Weekend before and there was a line of cars lined up Friday afternoon, Saturday Morning and Sunday Morning. Some of which stayed overnight.
There are not a lot of camping choices along Oak Creek.
There is dispersed camping above Oak Creek Canyon. Head north up the switchbacks and once you get to the top of the canyon, dive about a mile and on the left you can turn onto FR535 and take that back a ways and pick a spot out.
A little further up the road from the top of the Canyon along SR89a (1.5 miles) on the right is SR 237. Head back and pick out a site along the road there for a last resort.
You can also head east along Lake Mary Road to Lake View Campground, Canyon Vista Campground or try Lake Ashurst Campground, Pinegrove Campground or a bunch of dispersed camping along Kinnickinnick Lake Road.
Try heading south up above Jerome to Potato Patch or Mingus Mountain.
Call the Coconino National Forest for updates at 928-527-3600
Your Best Bet - The White Mountains
The White Mountains will be your best bet to grab a last minute spot. Some of the lesser used campgrounds are Winn, Benny Creek (Greer Area), Hannagan Campground and Alpine Divide Campground should all be decent for last minute possibilities. Keep track of availability by following Recreation Resource Management on Facebook as they update regularly throughout the day on what is open.
Call the Apache Sitgreaves National Forest at 928-333-4301 for possible updates.
If you cannot find a spot, the White Mountain Apache Tribe campgrounds including Reservation Lake generally have open spots even on busy holiday weekends and the fishing is outstanding.