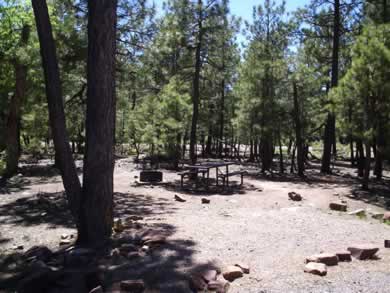 Mogollon Campground, although not directly in the Woods Canyon Recreation area, sits just outside and is only 2 miles from the lake. For those who like spectacular views, this campground is one of the closest to the Mogollon Rim. a short walk will take you to the Rim Lakes Vista Trail which runs along the edge of the Rim. Half of the campsites are available for advanced reservations by clicking the BOOK NOW icon above.
The Rim Visitors Information Center is located at the junction of the S. R. 260 and Rim Road.
Showers are located at Canyon Point Campground 5 miles east of the visitors center on S. R. 260. The charge for using the showers is $5.00.
Fishing Information - Provided by the Arizona Game and Fish Department
Woods Canyon Lake
If fishing for trout, try power bait from the shore, try power bait or worms. Boaters can try trolling Super Duper or tiny gold Kastmaster lures. When it is hot during the summer, fish a little deeper, but not too deep, between 10 to 20 feet because the lake stratifies in the summer, meaning there is no oxygen at the bottom. The lake is loaded with crayfish, try fishing for big browns int he spring and fall with spinners or lures that imitate crayfish patterns. Lake depth averages 25 feet and can reach up to 40 feet.
Statewide fishing regulations apply and a trout stamp is required. The daily bag limit is six trout, three for unlicensed anglers under the age of 14.
Cow bells or bumble bee's can also bring good results.
I fly fish the lake and notice that many fly fisherman tend to use sinking line with a bead head wolly bugger in olive or black. I have good luck when the shade hits the shores to the left of the boat dock down the left arm of the lake down along rocky point day use area with small dry flies like a parachute adams or any type of caddis.
Nearby Hiking
Woods Canyon Lake Trail surrounds the lake and makes for a nice but easy afternoon hike.
Click for a map of trails in the Black Mesa Ranger District
Directions
From Payson, head east on S. R. 260 until you reach the top of the Mogollon Rim and hang a left on F. R. 300 (Rim Road). travel 4 miles on Rim Road to the campgrounds (you will just have passed the entrance to Woods Canyon).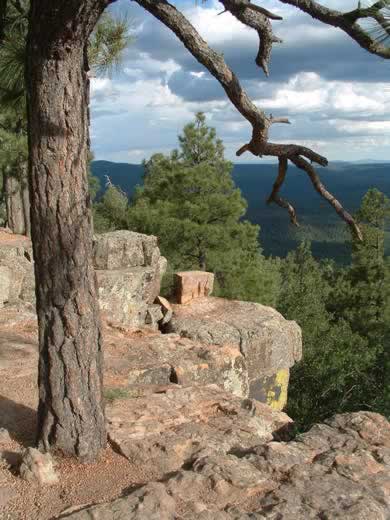 comments powered by