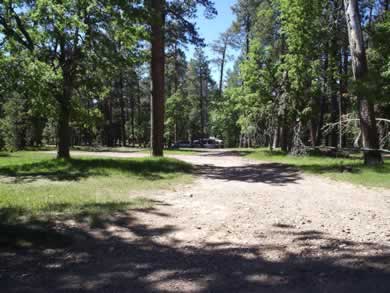 Bear Canyon Lake Campground is set among ponderosa pines, aspens and spruce trees, camping here is primitive. You may park where you like and set up camp, finding a flat spot can be a problem if there a lot of campers at the campground. There is no water or tables so be self contained. One note of improvement, the parking area is paved, but 1/4 mile from the lake. The sign at the parking area denotes a 0.2 mile hike to the lake, so if you are fishing, fish from the shore or bring a float tube with you.
Bear Canyon Lake is a "Pack it in - Pack it out" area. There is NO GARBAGE SERVICE. Please be good stewards of the land and leave the area better than how you found it.
Fishing is only with lure or flies, no bait.
For purposes of fire restrictions, this campground is considered to be an 'undeveloped' campground. No fires will be permitted when fire restrictions are in effect for the Apache-Sitgreaves Forest.
Directions
From Rim Road and the S.R. 260 head west on Rim Road and travel for 13 miles to F.R. 89 then head north for 2.5 miles to the campground entrance.