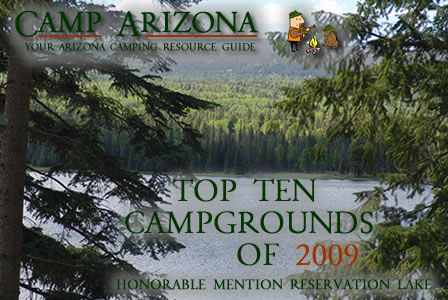 Top Ten Campgrounds 2008
Top Ten Campgrounds 2010
So, we have reached our second year of rating the top 10 campgrounds and there are a few new ones for you to check out. Some have dropped in the rankings and some have climbed. I hit a few places that I have never been before and as always, Arizona has a seemingly never ending diversity to keep us packing up the tent, kids and the dog and hitting the road. How can you not love to camp in Arizona. Below the top ten list is a list of all the places I either camped at or visited this year and some stories to go along.
The criteria for making the top ten list is as follows
Some of the things we considered were; scenic beauty, number of page requests on camparizona.com, some were based on how easy (or how difficult) it was to get there, proximity to recreational activities (i.e. boating, hiking, fishing, etc), amenities available (some were based on the lack of amenities). and a handful of other reasons
So, if you think there is a good reason to put a campground on this list for future reference, please take a minute and fill out the comment form at the bottom of the page (no log in necessary) and we will be glad to review all comments before next year's edition. Also, if you would like to place a comment on any individual campground, visit that campground's page and fill out the comment form at the bottom of the page. You can also rate campgrounds on the top right of each campground page according to various criteria.
So let the debate continue and who knows what will happen next year.
Happy camping to all, here is Camp Arizona's top 10 campgrounds in Arizona for 2009.
10

Canyon Point Campground

Canyon Point is making it's debut in our top ten list for a couple of reasons. First, Canyon Point was on of the cleanest campgrounds I have ever been to. Second campgrounds are not right on top of each other. Other contributing factors were Proximity to good outdoor adventure, Canyon Point is centrally located between the Rim Lakes and some great fishing at little known Canyon Creek. Showers are available at Canyon Point for a small fee. One overlooked note is how nice the camp hosts were. That can make or break a camping trip for a newer camper and Canyon Point's hosts were very polite and helpful every time I have been there.

9

Sinkhole Campground

at Willow Springs Lake

Another newbie to our list, Sinkhole campground at Willow Springs Lake received a ton of page views this year and a nice overall rating (4 out of 5 stars) by our readers. Willow Springs lake is a bit larger than its sister Woods Canyon Lake. Willow Spring boasts a boat ramp for your convenience and a 8 h.p. limit on boat motors. Frequently during the summer the shores will be speckled with those fishing possibly trying to catch the occasional lunker that the Arizona Game and Fish Department puts in this well stocked lake. 26 very clean and paved campsites dot this stretch of the rim which keeps the noise to a minimum.

8

Havasupai Campground

Havasupai went though a major flood in 2008 which reshaped the falls and some of the falls aren't even there anymore but several new falls have appeared including the temporarily named "Rock falls". Most of the campgrounds have changed and work still needs to be done to bring them back to the condition that they were in before the flood. One great improvement to the campground is the addition of new composting toilets that did not have any of the smell of the old toilets and they are 3 or 4 of them throughout the campground. no more walking all the way to the campground entrance to go. The trail to the campgrounds is easier than the trails into the Grand Canyon, Havasupai is an 11 mile hike from the trail head to some of the most impressive series of waterfalls in the United States.

7

Mather Campground

at the south rim of the Grand Canyon

Mather Campground is pretty much right in the thick of things on the south rim of the Grand Canyon. Within walking distance of the south rim, Mather boasts 317 campsites, a shower and laundry facility as well as a general store, restaurants, gift shops and a nice visitors center. With 4.5 million people visiting the Grand Canyon, reservations are almost a must and can be made five months in advance. Reservations during the winter months (December - March) are not taken and the campground is on a first-come, first-served basis.

6

Aspen Campground

on the East Fork of the Black River

Quite simply put, If you like small campsites with a few basic amenities this is heaven! Camping is on a first come first served basis, with most of the campsites filling up on the weekends. Wildlife occasionally can be seen riverside, and the fishing is top notch. Most of the East Fork is fish able as an 11 pound 7 ounce rainbow was pulled from the river not far from the Aspen Campground in 2003. Make sure you clean up at nights as this is bear country.

5

Manzanita Campground

Manzanita Campground is located just south of Slide Rock State Park in scenic Oak Creek Canyon. The campground is located right on Oak Creek. 19 campsites are small and some are now reservable. Come early and during the weekdays to have a chance at one of these prime campsites. The camp area is so small that there no room for RV's.

4

Cave Springs

Cave Springs jump up a few notches in the order due to one simple rule change. They banned all sound devices including all radios and car stereos. This has virtually eliminated all of the late night complaints. I stayed there back in September and after dark it was almost silent in the campground. I can't remember the last time I was there and the noise level was so low. A great idea, hopefully other campgrounds will adopt the same policy.
Cave Springs Campground is located at the northern end of Sedona's famous Canyon, 11 miles from the 89A turnoff in Sedona. Cave Springs is located just a few miles north of Slide Rock State Park, a great place to have a picnic and enjoy the scenery. No glass containers or pets are allowed in Slide Rock State Park. Slide Rock was named one of Life Magazines top 10 swimming holes. There are 78 campsites underneath the thick ponderosa pines, of which 11 are located on Oak Creek.

3 Aspen Campground

at Woods Canyon Lake

This was our pick as the number one spot last year. This is the big daddy when it comes to camping in Arizona. Woods Canyon Lake is the most popular camping area in the entire state. So much that overflow camping on a big weekend can send campers deep into the surrounding forest which is prepared for such days. There are many dispersed campgrounds in the area and Forest Road 300 boasts many of them. Aspen dropped in the ranking for a few reasons; camp host complaints, general overcrowding during the season and our new number one campground. I camped along the Mogollon Rim the week after the fourth of July and watched as cars formed a line all the way back to Star Valley.

2

Christopher Creek

Easy come easy go for Christopher Creek as it retains the number two spot in our top ten list. An outstanding campground in a superb setting. Set below the Mogollon Rim just off of S.R. 260, Christopher Creek Campground has 43 units that are on both sides of the creek. A group campsite holds 25 people and is by reservation only. The creek is stocked with rainbow trout early in the year as waters tend to recede throughout the summer months. Three swimming holes offer a way to cool off when the temperatures get a little high.

1

Apache Trout Campground

at Big Lake

Not one single campground stirred quite the buzz like this one did. There were more user comments about this one campground before it opened than all of the other campgrounds combined. I was up in the White Mountains in June and dropped by for a night. The campground was very clean and firewood was in abundance and was free to gather. It probably lasted well into the summer. The shower facilities were part of the fee and you could used them whenever they were not occupied. At the end of each shower facility was a sink with running water and an area to bring your dishes for cleaning. Under construction was a fantastic group area. Campsites were paved with gravel and each had a picnic table, Grill and fire ring. Best of all, Big Lake site right in the middle of the White Mountains and there are so many places to visit you really can't go wrong. There were also electric hookups and a dump station for those camping with a Motorhome or RV. Nearby is the well stocked Big Lake General Store where you can also rent a boat. And when you land that big rainbow, there is a fish cleaning station which always seems busy each time I have the chance to drive by.

Honorable Mention
Reservation Lake, Catalina State Park, Rainbow Campground at Big Lake, Dead Horse Ranch State Park, Houston Mesa, Fool Hollow Lake State Park, Hawley Lake

These are the campgrounds that I had the chance to stop by and check out this year.

Lee's Ferry, Lynx Lake, Cave Springs, FR9350, Apache Trout, Reservation Lake, Havasupai, Aspen on the East Fork of the Black River, Sharp Creek, Christopher Creek, Chevelon Lake, Chevelon Crossing, Airplane Flat, Upper Canyon Creek, Valentine Ridge, Canyon Point, Second and Third Crossing, Rainbow, Cutthroat, Brook Char, Diamond Rock, Deer Creek, Raccoon, Horse Springs, Lost Dutchman State Park, Cholla Recreation Site, Windy Hill, Frazier, Grapevine Group, Schoolhouse Point, Tortilla, Manzanita, Kentuck Springs, Hazlett Hollow, Sinkhole, Colcord Ridge, Tonto Creek. I think that is about it for this year. I can't wait to see what awaits me in 2010.

Fishing at Lee's Ferry is about as good as it gets if you are a fly fisherman. I packed up the gear and headed up to the river. The scenery is incredible and the river is amazing to travel on. There are a couple outstanding fly shops within a few miles just in case you forgot something. Try Lee's Ferry Anglers at the Cliffdwellers Lodge or Marble Canyon Outfitters at the Marble Canyon Lodge. I ran into some trouble on this trip as my forward gear failed in my boat as I was rounding the final corner while heading to Dam Island and had to drift all the way back to 6 mile before I got some cell service and was rescued by the Ranger. I caught a few nice rainbows and had a few cold beers to keep me company on that trip.


Lee's Ferry Campground

Early in the year my daughter and I visited Lynx Lake for a couple of days and witnessed a Bald Eagle soaring above the lake. Lynx lake has a calming effect a little bit more than most of the camping trips I go on. Once again my dog found out that the skunks are not so fond of playing. You have to laugh even though the smell of fresh skunk spray permeates everything. To this day I will never forget to bring the ketchup to get rid of the smell. It really works just in case you run into a few skunks on your camping trip.


Lynx Lake

During May, I took a trip up to Reservation Lake and was treated to a a jewel of a campground in the White Mountains. Reservation Lake is at an elevation of just over 9000 feet. Everyone should see the Milky Way on a moonless night at that altitude. It is quite a sight to see that many stars out at once. On that trip, my daughter reeled in her first fish. a nice rainbow trout. While I was in the Area, I had to check out the newest campground at Big Lake, Apache Trout. So I decided to stay there for our last night in the White Mountains. We set up camp and left to go to my favorite place to fish in Arizona, The East Fork of the Black River. If you ever want to see wildlife, this is the place to go. A gentleman stopped right where I was fishing to show me through his spotting scope a Bighorn Sheep that was resting right above me on the hill across the river. On the way back to the campground, we witnessed a herd of Elk. This seems to happen each time I head up to the White Mountains. On the way back to camp, the rain started and by the time I reached camp, My trusty tent had seen its last day as the fly and the top panel had decided in unison to fail and soak everything in the the tent. Oh well, we packed it up and headed back to Phoenix a night early.


Reservation Lake

My daughter and I took a trip up to Cave Springs campground north of Sedona. Cave Springs has disallowed any use of radios of any kind at their campground and the camp host informed me that move had virtually eliminated all complaints from campers about late night I had to admit, it was a nice change for this campground. I camp there at least once per season and the only thing that might be a negative about that is the number of skunks in the area this year. I have never seen this many skunks on any previous trip to Cave Springs. When I turned in for the night there were 5 skunks in my campground within 5 minutes.


Some of our nightly visitors at Cave Springs this year.

I hope you enjoyed this, I know we did.

comments powered by