Knoll Lake Campground is pretty much a long way from everything. The road leading to Knoll Lake is bumpy but the scenery along the way is spectacular. The rim views along the way are unbelievable.
This is a good campground to try when all the other campgrounds in the Rim Lakes area are full. On a busy June weekend, there were several campgrounds open when everything else in the area was completely booked.
The lake is set in stands of ponderosa, aspen and spruce. For those who tow in a boat there is a single lane boat ramp available on the north end of the lake. Rainbow trout can be caught here and the scenery only gets better when you are out on a boat.
Knoll Lake Campsite Panoramas
Click a campsite number to view a full 360 degree panorama of that campsite. Note: I was here on a busy weekend, so I only shot a few panoramas.
The Rim Visitors Information Center is located at the junction of the S. R. 260 and Rim Road.
For those in need of a store, there is a general store located at Woods Canyon Lake which carries groceries and fishing supplies. You can obtain your fishing license there also.
Directions
From the Rim Visitor Center, head east on Rim Road to F.R. 295E this may take a little while. Turn right on F.R. 295E to the campground entrance 3.3 miles north on F.R. 295E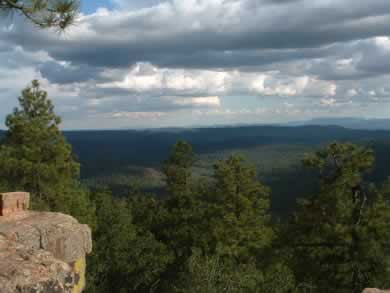 Above: The view from the Mogollon Rim